11 Crochet Mandala Patterns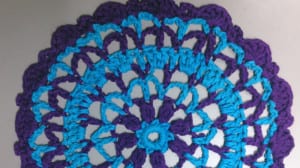 Crochet Mandala
Mandala  – noun
Oriental Art. A schematized representation of the cosmos, chiefly characterized by a concentric configuration of geometric shapes, each of which contains an image of a deity or an attribute of a deity.
Mandalas have become so popular in the crochet world.  I don't think I can turn on Pinterest without see at least 3 of these colorful wheels pop up in my feed.  I have dozens saved in my Ravelry favorites too.  But what is really so special about these?
I think circles are just pleasing to look at and today's crocheted Mandalas can be a wonderful expressive form of art.  Your creativity can endless with color and design.  I that they are becoming the modern version of doilies.  My grandma had beautiful white starch thread doilies on her dressers and on the headrest of her chairs, but I would rather have these pretty colors of explosion.
Mikey's Stitch-Cation 2015 was an awesome use of mandala motifs, all put together to make an amazing summery afghan.  It features 6 different large mandalas and and a mini motif to join them all together.  If you missed it, you can still download the E-book and watch all the videos at this link:  Stitch-Cation Afghan 2015
This is a list of some of my favorite Mandalas because of their uniqueness in design and color.
Pick one and play with color and change it to make it your own.
Peace & Love – This is the one pictured above.

Mandy's Mandala
Be creative! 🙂 – Jeanne – The Crochet Crowd