150 Knit and Crochet Motifs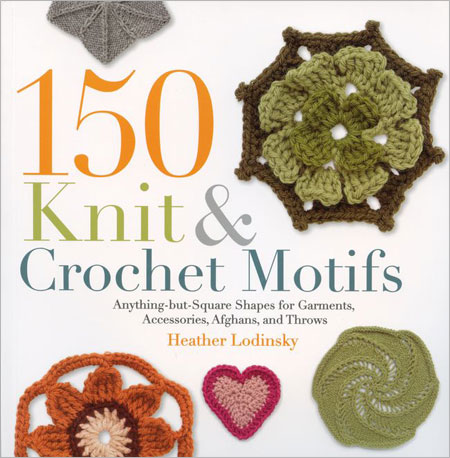 150 Knit & Crochet Motifs
Odd Shapes, Unique & Terrific are my three descriptions of this book. Don't be a square as Heather Lodinsky says on the back of the book. Certainly, there are no squares in this book. Heather concentrates on both knitting and crocheting within this 150 patterns of motifs inside this book.
There is a lot of variations of doing similar shapes within this book. For example, a star can be constructed several different ways and each way gives it a different appearance. Two thumbs up for the diagrams she provides inside this book as well to help readers who have trouble following along with words along.
Heather goes beyond into really abstract shapes such as snow flakes, fancy full doilies and great shapes like hexagons. Furthermore, she gives a picture of how the certain shapes would be fitted together should you decide to want the shape used several times in a blanket or throw.
There are a lot of ideas inside this book to attach a shape such as a heart to anything you have already made. Maybe even some leaves or flowers onto a special afghan or hat.
Heather has provided so many great ideas within this book that you are drawn into the book and realize the potential on what you can use some of the shapes for. It certainly creates excitement for both knitters and crocheters alike.
This is a fabulous book for your collection when you are stumped on ideas on what to do next.