17 Crochet Kids Birthday Party Ideas
Crochet Your Own Birthday Party Treats
I have many nieces and nephews and go to a lot of kid birthday parties.  I see parents put together "treat bags" for all the children in attendance.  They are filled with such things as candy, small toys, stickers, etc.  Sometimes when adding it all up, looks like it can be a bit costly with items that are basically disposable.  But some of our creative crocheters in our Crochet-Along Crochet Crowders Facebook group have been posting some really fun crocheted birthday party treat ideas.
I have seen a chat about making beanie and pom pom hats for the boys and girls for a ski party.  There have also been photos of Harry Potter themed parties with hats, scarves and even snitches for the party guests.  Another crocheter posted a whole bunch of Pokemon amigurimis key chains for another fun idea.
So think outside the box of the normal birthday party treats.  Great creative and find fun crocheted gifts for your party take home treats that will last forever.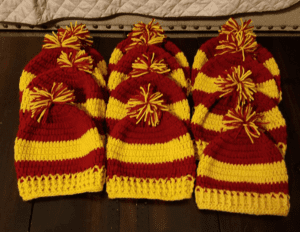 Here are some birthday party treat ideas to inspire you.
Princess Crowns – because every diva needs a tiara.
Superhero Cuffs – use a basic wrist cuff pattern and add your favorite super shield. (sorry, I couldn't find an actual pattern but saw lots of ideas on Etsy)
Pirate Patch – perfect a Jake and the Never Land Pirates themed party.
Mouse Ears – easy to crochet using a store bought headband as a base.
Ninja Turtle Masks – great way to use up leftover yarn for a really fun low cost idea.
Magic Wand – a crocheted star, a wooden dowel, ribbons and hot glue will create magical fun.
Golden Snitch – what Harry Potter fan wouldn't love to catch one of these!
Girl's Favorite Hair Bow – Hello Kitty styled.
Star Wars Theme – Light Saber Freezer Pop Holders and Princess Leia Beanies.  Please invite me. 🙂
Finger Puppet Menagerie – great treat for a day at the zoo party.
Hawaiian Leis – fun idea for those summer pool birthday parties.
Doll Sleeping Bags – perfect for those slumber parties, so the dolls will have a place to sleep too.
Snowflake Mini Purse – for your Frozen winter parties.
Lego Brick Scarf – will be cherished by young and old alike because they are ageless and timeless.
Minecraft Monster Bag – easy to hook reversible bag to hold even more treasures.
Minion Snack Bag – send them home with a healthy snack after the party.
Funny Charms – make each one unique for each child; great for zipper pulls and attaching to back packs.
Inspire, Create and Celebrate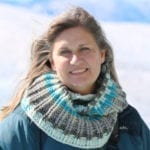 ~ Jeanne – The Crochet Crowd