18 Months Comes to An End: Crochet Cruise Planning
It's Almost been our Typical 18 Months
We've now hit our 6 year anniversary since starting the Crochet Cruises. Though we have only cruised for 5 of those years. We are embarking on our 11th Crochet Cruise next week.
To date, we have taken 865 crocheters with us. We will be at 949 crocheters by the end of the next cruise. With our Alaskan Crochet Cruise in June, we will be hitting 1079.
To say we have learned valuable lessons is an understatement. How to deal with cruise lines and readiness of being prepared is amazing. I had the position of working with the Creativ Festival for many years. One of my biggest mentors, who has since retired, really was so prepared for a show. Nothing is left to chance. She would have binders of pre-planning for every element. Today, I have one for this cruise that keeps me in balance on a cruise.
Unscripted
Daniel and I don't script ourselves as life is not predictable. However, we have talking points that need to be covered in a lesson.
I find when you speak from the heart, you don't need a script. It comes from within and the words find themselves out of your mouth and into the hearts of others.
Crochet to me, it's a part of the journey of life, not just for me, but for potentially millions of people.
Do I Get Nervous In Front of An Audience?
Background
As a child, I was driven to tears in grade 8 by a girl mocking me as I talked about my train collection.
The whole audience is naked thing is a bunch of hoo haa!
In college, I had to a presentation on something, I don't remember the topic. The teacher taught me something invaluable. If you give the audience something to look at while you are up, the attention isn't as extreme. So I poured my heart into this billboard presentation and it worked.
In my 20's, I attended business meetings every Tuesday Morning. I had 1 minute to tell the group what is going on in my business. It's the difference of being bored out of your mind to saying something that you believe in to make your presentation stand out. I didn't realize I was actually funny in person until this moment. However, I was speaking from a perspective of caring about the topic and believing in it.
The quick answer is No I don't. Not with crocheters. Crocheters are my peeps, they get me. Regardless of race, origin, financial status, language and more, we are one, together! We have a commonality of caring about moving our hands in rhythm to create the most amazing ideas that blossom from our minds. Regardless of skill level, we are all equal as we have a common passion.
Being Prepared
People who know me well, know I over prepare. In being prepared, I can speak first hand, with passion with having done my homework.
The best answer is "I don't know!" 
It's great to do a song and dance but when you are not honest and start making up things on the fly just to have an answer, it's better to say I don't know. However, in doing homework, you can be ready for most questions.
So this past week and the week coming, it's all about being prepared. I am running prototypes of the samples that will be taught on the cruise. I know what you are thinking, you waited until the last minute. I'm sorry, if I would have done the sample 6 months back, I would remember the difficulties and where to leave valuable advice for the cruisers. So the final prep is this week.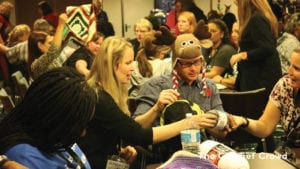 The Hardest Day of a Crochet Cruise
It's the first day. It's not nerves, it's more anxiety of a lot of moving parts happening in a small window of time. In some of our cruises, we bus our guests to the cruise ship together as a group. So we have to gather everyone and everyone needs to be respectful of departure times to get to the ship.
Unless absolutely dire need, Daniel and I will put all of our guests onto the buses before ourselves. This way, we can ensure with certainty that no one got left behind.
On board, we scramble to meet with the personnel that will oversee the behind the scenes operation from housekeeping, tech, food services and group coordination.
While all this is happening, our truck with our pallets should have arrived and is being loaded to the ship. So we check in every 30 minutes to get a visual confirmation that our skids are in the cargo hold of the ship. Once we know the skids are on board, 90% of the pressure is gone.
We wait for housekeeping to move all of our boxes up to the conference centre.
Daniel and I, plus volunteers being to deliver post cards to cabins where our guests are staying.
Our first formal dinner is interrupted short so we can leave to begin to assemble the conference room so the guests can enjoy a full meal with dessert and by the time our meeting time happens, the conference room is fully unpacked and ready to kick off a cruise.
The night will kick off with new guests and return guests in our party. By the end of the night, we are exhausted and our first classes start the next morning. The rest of the cruise is pretty easy sailing from this point as the homework has been completed.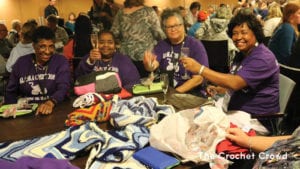 Daniel and I Oversee The Group
You can easily tell who are quiet and who like to be the life of the party. You can tell those that are shy that need to break free from the shell of judgement.
For me, I like to get up extremely early. It's not uncommon to find me with a crochet hook at 6 am in the buffet. As the crocheters crawl out of bed, more and more crocheters realize we are assembling early. Sometimes, we catch the sunrise together.
In the Last Couple Years
Daniel has really taken over for the Cruise Planning. It's a ton of work. For myself to prepare tutorials and more for the general online audience and run the behind the scenes of the cruise planning, it's more than I can personally manage.
Daniel has an uncanny gift of event planning. He knows how to cross check and, along with our agent, Sherry and he plan so easily together.
I don't even know how many hours is devoted to cruise planning but it does top in the several hundreds of hours.
No Cruise is Possible without Sponsorship
We've been very, and I mean, VERY fortunate that corporations have sponsored our events over the years. The sponsorship allows us to really provide excellent programming options.
I have been to events where their was sponsorship and you are gifted 1 ball of yarn. What on earth do you do with that? Like seriously.
As the years have rolled on, we have grown in planning and services in this area. From the smallest details to very noticeable differences.
This year, we are again sponsored by JOANN Fabrics and Crafts. They have been exceptionally generous in helping us provide an amazing on-board program.
Sponsorship is never taken for granted as sponsorship can stop at anytime. Being grateful and having gratitude for others saying "Yes, we will help!" is a gift beyond measure.
We just got back from JOANN last week after packing up our skids. All of our stuff was shipped to JOANN to assemble the bags together.
In the first two years of the Crochet Cruises, we had volunteers help us assemble the bags on the opening night. It's a bit chaotic to say the least. We realized once we worked with Yarnspirations better, to pre-pack the bags to just pop out of the box and set on a table is much better.
Therefore, if we know something is missing, we can see there instead of not finding things on the ship that should have been shipped.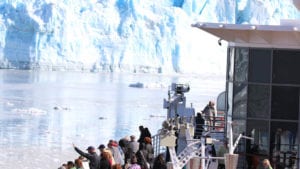 Overall Is It Worth It?
Absolutely. The feeling of doing something unique and extending your time to others in this sort of event makes it so worth while.
For me, I get a personal kick out of watching people grow skill level wise. Hearing the OOOOOH moments of the puzzle pieces snapping together.
The cruise isn't about me being on stage or the center of attention. To me, it's about creating an opportunity for others to connect together through a unique presence. It takes someone to lead, which I am glad to do but at the end of the cruise, the story told was about "US", all of "US", not just me.
It's the true sense of what community is. Never "ME, always "WE".