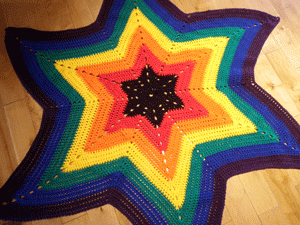 6 Point Christmas Tree Skirt Star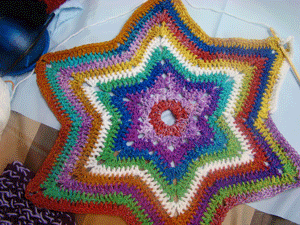 6 Point Christmas Tree Skirt Pattern
No Slit To Prevent Cats / Dogs or Kids from messing up the skirt. 
This is a psychedelic star to be put onto the bottom of the Christmas tree before setting it up. Meant for Articifial Tree Designs. Enlarged centre hole is meant for this concept.
Materials used for this exact star is 6 Balls of 100G Bernat Mosaic Yarn. This picture is showing the skirt not completed. There were 2 balls of psychedelic, then 2 balls of optomistic and then finally 2 balls of calypso. I also placed 1 rotation of White Bernat Super Value yarn every now and then to help break up the colours.
Size 6.5 MM Crochet Hook or Size K. This is a larger hook than normal for this gauge of yarn styling. I wanted the start to be flexible and airy to help increase its size faster.
Abbreviations: CH = Chain, DC = Double Crochet, SL = Slip Stitch, SC = Single Crochet, SK = Skip Stitch
Let's Begin – Steps are In Rounds
Ch 12, then Join
Ch 3, 23 DC into the ring and
Ch 1, *SK 1 stitch, then 3 DC , Ch 3, then 3 DC all into the same stitch (creates point), SK stitch then SC into the next. Repeat from * 5 more times. Join final SC with the beginning chain of this round.
SL 2 stitches toward the next point, Chain 3, 1 DC into the next stitch, *Place 3 DC, ch 3, 3 DC into the point of the star – Do this everytime you are on a point of a star. 1 DC into th enext 2 stitches, skip 3 stitches, and DC into the next 2 stitches. Begin point again from *. Repeat all the way around. Join at the end of the round.
This round is what you will do for the remainder of this star. SL 1 stitch toward the point. DC into the remainder of the stitches going up th epoint of the star. Repeat star point again 3 DC, Ch 3, 3 DC. Repeat DC all the way down leaving two stitches empty at the bottom. Immediately jump over to the next point and DC up to the point again. It is critical to ensure stitch counts are the same. Any points with a different number of stitches will result in a start being mis-shaped.