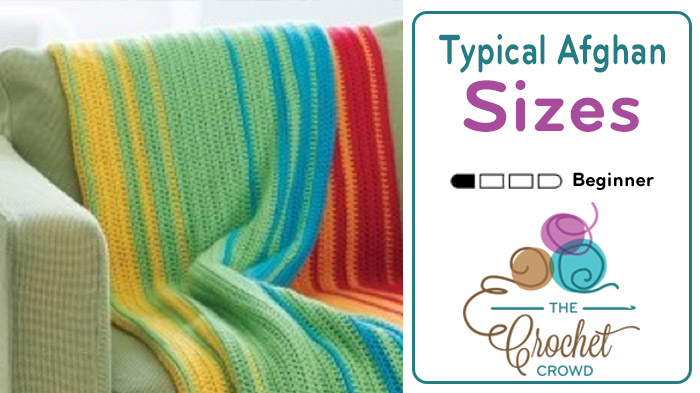 Typical Afghan and 🛏 Bed Sizes
Afghan Sizes
Do you need to know how big the typical afghans are? Below I have given you the sizes for typical afghans. Also, I have given you mattress sizes for those wishing this information.
Like the Crochet Spectrum Afghan, get the free pattern!
If you need to figure out stitch counts to make these sizes, this is solely dependent on you. Typically, I chain until I hit the width or length of the project I want by measuring it directly to my bed or an established blanket.
If you are working with with multiple sets, you have to figure that out by counting the multiples out as you go. For example, say I want a 70″ wide afghan and I have multiples of 9 + 2. I could from 1 – 9 as I chain over and over and over. Once I get to the length I need, I just add 2 at the end. This way, I can ensure my multiple count will be right without worry of a calculator.
Blanket Sizes
I have given approximates saying 'square' to give an idea. You can use the information to make rectangular afghans but the minimum width recommendation is given below.
Kid Sizes
Receiving Blanket – Usually Square starting at 24″ to 36″
Small Cradle – 15″ x 30″
Large Cradle – 18″ x 33″
Baby Blankets Typically Range – Minimum 24″ – 30″ width
Toddler Afghans – Minimum Range from 30″ – 36″ width
Young Child – Minimum Range from 42″ – 48″ width
Teenagers – Minimum 48″ – 60″ width
Other Afghans For Decor
Throw Afghans – 60″ width – 48″ to 60″ length
Lapghan – 36″ width – 48″ to accommodate wheel chair or regular sitting positions on chairs.
Mattress Top Sizes without Drape
Small Cradle – 15″ x 30″
Large Cradle – 18″ x 33″
Crib Blanket – 28″ x 52″
Twin – 39″ x 75″
Full / Double – 54″ x 75″
Queen – 60″ x 80″
King – 76″ x 80″
California King – 72″ x 84″
Mattress Sizes with Drape Over Sides
Crib – 36″ x 54″
Twin – 69″ x 90″
Full / Double – 84″ x 90″
Queen – 90″ x 95″
King – 106″ x 95″
California King – 102″ x 99″