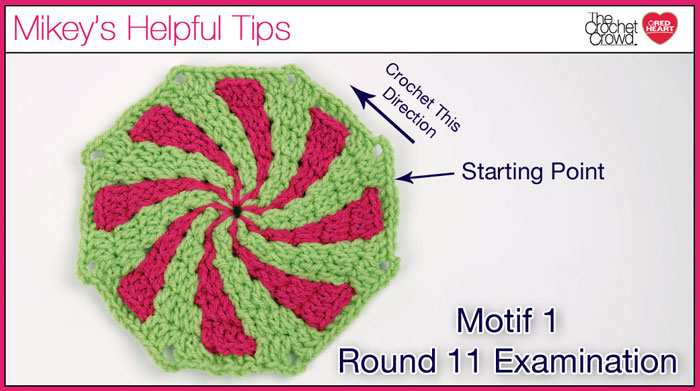 Can 1 Peppermint Motif be a Huge Baby Afghan?
A Great Baby Afghan Question Today
A fan asked today, can 1 motif of the new Peppermint Throw Afghan design be made big enough to be an entire baby afghan?
This is a great questions because it already occurred to me when working with the tutorial that it would be a question that people ask me and I wondered to myself whether it was possible.
The Answer is No, Not As Written in the Pattern
If you examine the back of the motif and notice how it is made, you will know that each colour is working independently from each other. This means that there are chains that cross connect each colour.
When the motif gets bigger, the chains become longer. If you think about a large motif that ends up being a blanket, you will have exceptionally long chains between the colours of the pinwheels.
I believe, whole heartedly, this would be a huge mistake. The chains would be so long that a child could stick their head between them and potentially choke themselves.
The reason why it works for this application and not a bigger motif is that the chains remain in balance and are not sloppy or saggy. They remain tight. The bigger the chain, the less likely that will happen. Though it seems like a great idea in theory, practicality comes into play ruling this as a not recommended for safety and construction reasons.
Securing the Chain Option
You could do it if you were securing the chain strategically into position once you got beyond the 10th round. When you make the chain, you will want to slip your hook onto the back side of the round below every 4 chain spots… This will ensure the chain doesn't gets sloppy or too big. You can play with this idea to see what you come up with.
Hopefully this helps anyone considering this idea.
See a larger shot of the back of the motif to make your own judgement call.