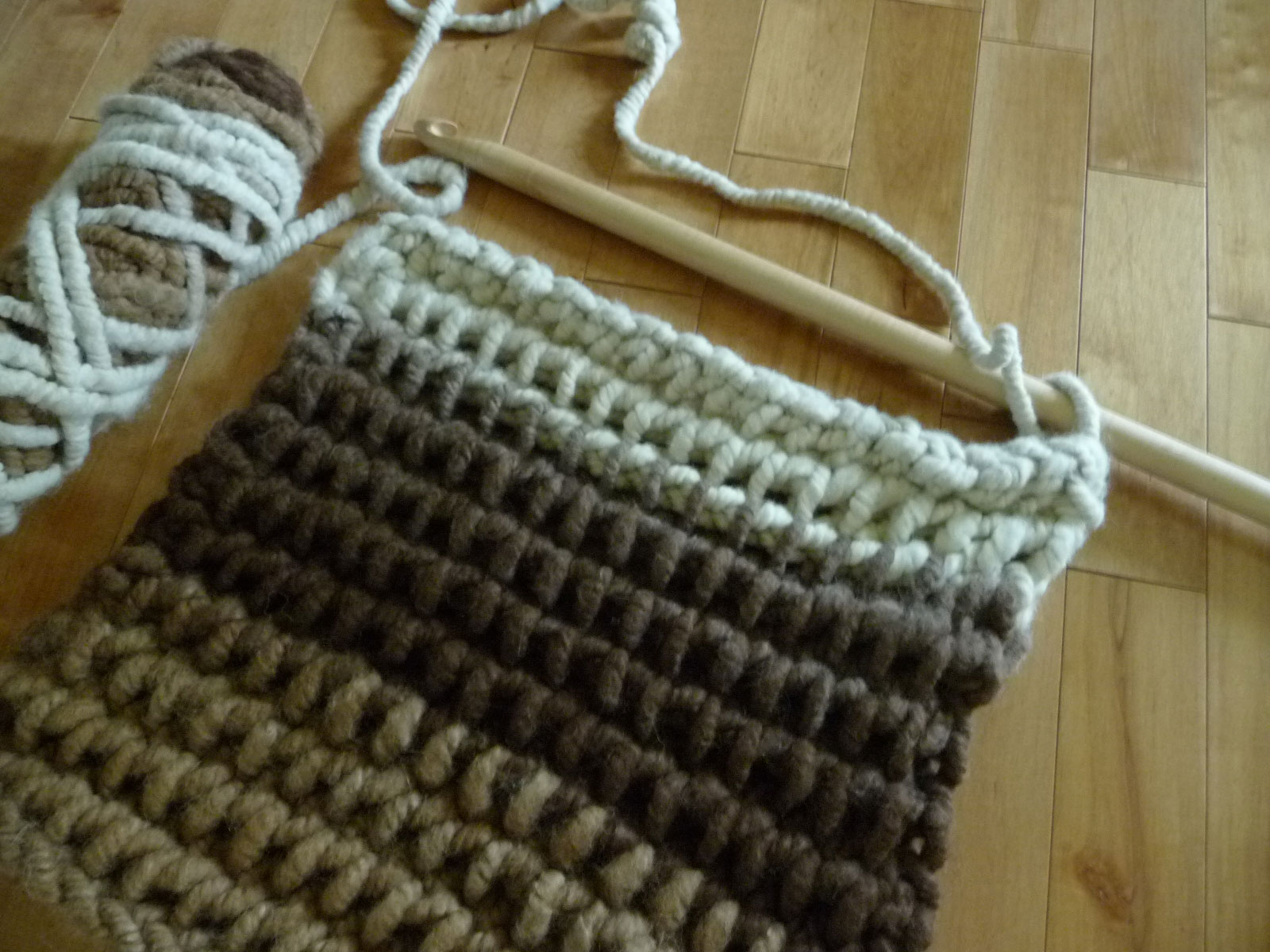 Big Bump Tunisian Rug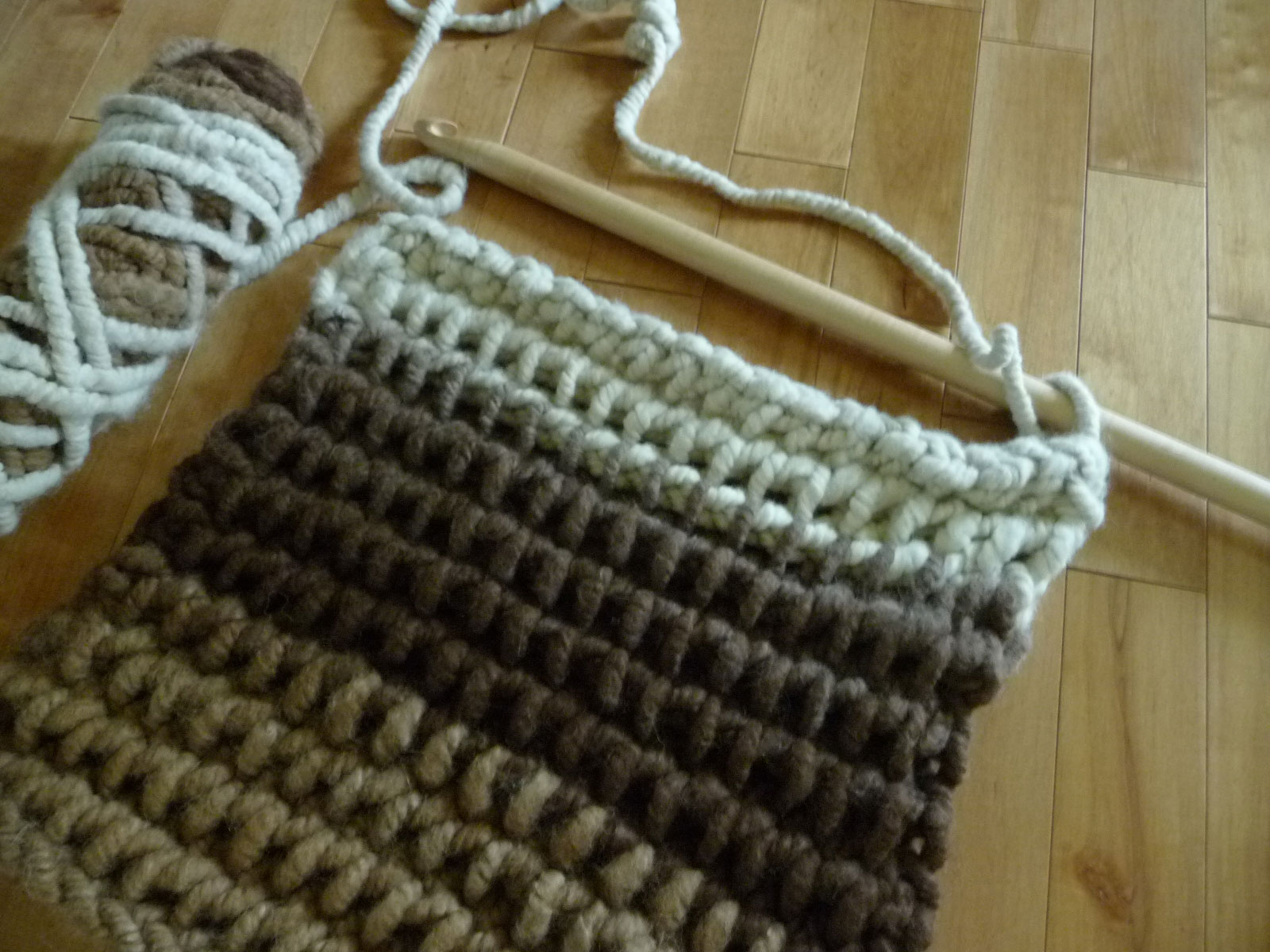 Acknowledgement:
I would like to thank Becca Smith, owner of The Bagsmith, for allowing me to convert her knitted version of this rug into a crochet tunisian rug for us crocheters to enjoy.
This is such a simple design using the Tunisian Simple Stitch. The only factor here is the size of crochet hook which is a U Size and the Big Bump Yarn. The Big Bump Yarn is 70% Alpaca, 15% Wool & 15% Nylon. The Bagsmith specializes in providing amazing products in person and/or through their online store.
Measurements of this finished sample:
Rug will end up being 39″ Long by 19″ Wide.
Each bump is different due to the fibers being natural.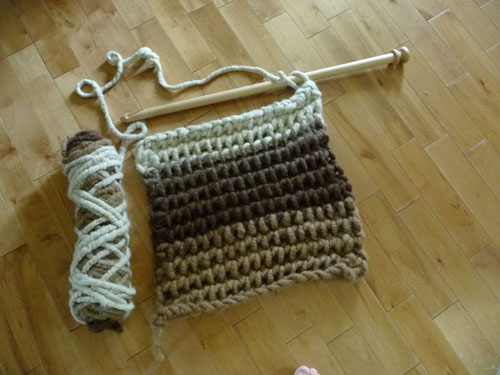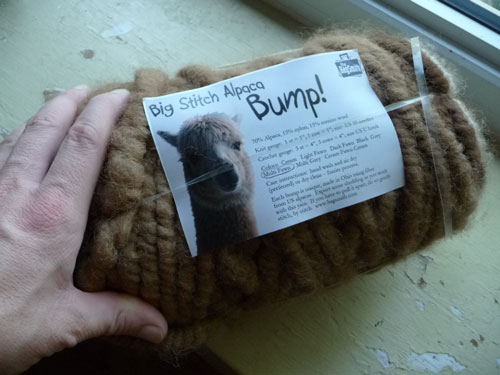 Project Half Way Completed                         Big Bump Yarn
Materials List:
1 Big Bump Yarn – Many Variations to Choose – Colour seen is Cream Fawn.
 Abbreviations:
CH = Chain, DC = Double Crochet, SL ST = Slip Stitch, BEG = Beginning, FP = Front Post, 2 SC TOG = 2 Single Crochet's Together to reduce stitches.
 Rug Instructions:
CH 19
Begin Simple Tunisian Crochet starting from the 2nd CH from the loop and gather the loops across. You will end up with 18 Sitches on your hook. (I tend to always count all the way through the project to ensure I don't accidentally miss a stitch or skip a stitch, with Tunisian, mistakes are clearly obvious.)
Begin stitching, Yarn Over – CH 1 in the first loop, *Yarn Over – Pull Through 2 Loops. Repeat from * all the way across.
CH 1, gather loops again. like in step 2.
Repeaet Step 3 & 4 for the duration of this project.
Continue for the entire length of the yarn. Ensure you finish your rug so that you finish after ending step 3.