Beading Workshop 102 – Book Review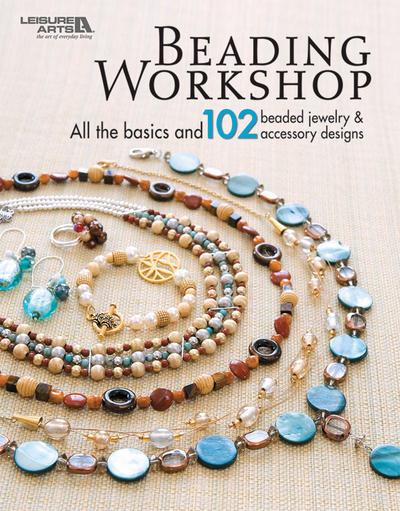 Beading Workshop 102
I don't know about you, but some of the designs we find in stores are not my taste at all. Cheap products assembled onto cheap stringing materials, and yet it may look stunning. To the person in the know, it's obvious that someone is wearing cheapy costume jewelry. For the same money and if not save a ton of money, you can make something that makes you stand out from the rest and have pride knowing you made it yourself. This book gives you elements of design to make that possible.
This book is super educational on the types of claspings, beads, and tools used to make jewelry making possible. It assumes you have a bit of skills being this is Workshop 102. Some of the designs, the beads are easily obtained at a crafting or even department stores. The looks at achievable and affordable in nature.
This book just doesn't show the end of a product and what it is to look like. There is also close up shots on where we need to pay attention or help explain the description better. To me, seeing that makes the world of difference to my success rate.
For those who would like to make their own jewelry. True story, was at the mall last week where a women was attempting to sell a necklace for $150.00 where I know first hand the beads were only $5.00 that were on the strand. I thought to myself, no thank you… if I want one, I'll go make it myself as the exact beads were in my bead stash already! She will probably sell it at that price but jewelry makers like you or I can make our own and save a ton of money!
Use this book to help you with your designing and skills!
For more crafting tools and materials for a wide variety of crafting areas, why not check out http://www.cutratecrafts.com. 15 – 30% Savings Everyday. Free shipping may be available, see details at http://www.cutratecrafts.com