🐶 Bernat Blanket Stitch Along with JOANN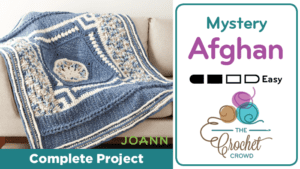 Bernat Blanket Stitch Along with JOANN
Crocheters have been demanding, in a nice way, another mystery crochet along project. Last one back in the spring was a complete see the afghan and then get the clues over 3 weeks. However, more crocheters wrote in and they wanted a complete, in the dark, crochet as you go mystery.
Original Website for this Mystery by JOANN Fabrics & Crafts
Crocheters also requested something to be ready for Christmas and gift worthy. So the designer, really pushed the envelope on the afghan. From skills, even for me, I didn't know about. So not only is it a mystery but it has skill building techniques.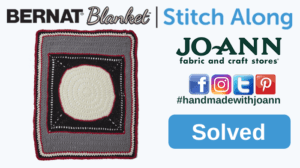 Last year, if you remember, we did a complete mystery. The goal with that particular afghan was to give beginners a chance to learn crochet from the beginning to have their project as the first afghan ever.
You can still get the patterns and the tutorials are still available if you would like to try this afghan pattern. Get access to the patterns and tutorial here.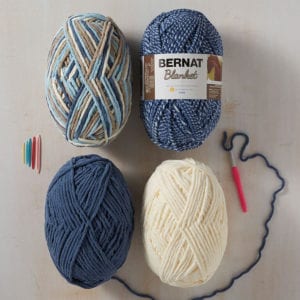 What does a complete, in the dark mystery mean?
Starting September 18, 2017, the first clue will be revealed. For 6 weeks, a new clue will appear on Mondays through the JOANN Website. 
We have given you the clue colours suggested. As a special treat, I am going to tell you right now what Contrast A, B, C and D are.
In the pattern, the instructions call for using specific colours.
Bernat Blanket Country Blue 2 Balls – Contrast A (bottom left)
Vintage White 2 Balls – Contrast B (bottom right)
Cloudy Sky Variegated 2 Balls – Contrast C (top left)
Cloudy Sky Twist 3 Balls – Contrast D (upper right)
As a personal observation, when you see the Cloudy Sky Twist in person, you may think… Hmmm… what will this look like when it's done. Due to the twist, it gives the finish project a pop of unexpected surprise. Even for me, I was pre-judging this yarn but once I seen a few rows worked up, I totally can see why it was used. It's part of the final charm of the blanket.
You will use all balls stated in the pattern.
The Crochet Crowd Giveaway
The Crochet Crowd is giving away 3 Prizes for completed Stitch Along Afghans. Starting October 23 – November 30, 2017, we will be accepting entries for those who have completed the crochet version of the stitch along.
The final clue is on Oct 23rd and I will give you a few weeks to either catch up or get your projects completely done.
To qualify the following requirements must be followed to be fair to all:
Your project must be as written. You can add additional but all 6 clues must be in the project.
Colour is your choice. Use what is recommended or do your own thang.
The hook size is up to you as long as the pattern is followed.
You can use the yarn your choice, as long as the pattern is followed.
When submitting your project via email photo, you must lay down the project so we can see all 6 clues. Your project must be completely done with ends taken care of.
Entries will be accepted from crocheters and void where prohibited by law.
What Do You Win?
You will win the supply of yarn to do another blanket on the house compliments of Yarnspirations.com. That's right, you will receive the complete supply of this project on the house delivered to your home.
3 Winners will be randomly selected from the entries.
Draw will be December 2nd, 2017.
When Submitting
You will submit your pictures to inquiry@thecrochetcrowd.com. Use subject title of Stitch Along. Give us up to 4 days to review your photo and add it to the gallery. If there is something wrong, we will email you back. If we don't email you back and you don't see it in the gallery after 4 days, please send again. Please ensure you check before resending at the gallery will be alphabetical order by your first name.
Please give us your full name, and full mailing address so we can ship your big box of yarn if you are selected. Please ensure your mailing address and name are included in the email.
Should you forget and need to email us again, please state it's your second email. Also, provide the picture again so we have your info and submission as one email. We won't add your email to any mailing list and/or share your personal info.
All submissions are deleted at the end of the draw. We will open up the gallery when we start this draw. Do not send us any emails of partial afghans. We are only looking for finished examples.
All blankets are in alphabetical order, so be sure to check all of the pages to see your blanket.
Introduction Video
Complete Tutorial for Right Handed. Left Handed Below
One Clue
The afghan is not made up of granny squares.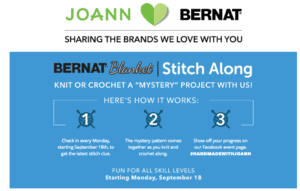 How To Participate
JOANN is hosting this Crochet Along with myself helping out with the video tutorials. Find out more information here.
The Crochet Crowd, Mikey's Team, will be hosting giveaways for random winners at the end of the Stitch Along. Stay tuned for more details.
There is also a Facebook Event Page for this Stitch Along. Both Knitters and Crocheters will be using this page to communicate and share ideas. Join this page to part of the mix.
Video Tutorials
Click GET PATTERN above in the Pink Button to access the free patterns offered.
Week 1
This is about getting started. We will do a pattern review so you can follow along in pattern format if you want to. There is also crochet diagrams that will be referred to throughout the series. This is learning opportunity to follow patterns. We will also do a gauge swatch to test your tension. I give tips on adjusting. This pattern matters for gauge, so spend the few minutes it takes to make a gauge and test it. We will then cover the beginning of the afghan and get you started.
Week 2 will build from this Week 1 Clue.
Week 2 
In week 2, we do something I haven't ever done before and it is to build out the four sides as triangles. This creates week 1 to appear as a diamond in the center of the afghan. The concept isn't hard but ensure you watch your tension. If you are too tight, this will cause the center to pucker out. So if you are really tight, then just go up a hook size for this clue to ensure you keep the tension to be accurate.
Week 3
Week 4
Week 5
Week 6