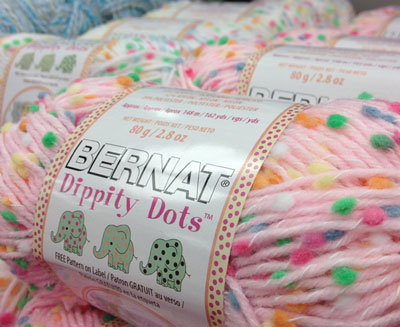 Bernat Dippity Dots Yarn

Another great yarn that is new to the market is the Bernat Dippity Dots Yarn. I suspect this yarn is going to go gang busters as crocheters and knitters sink their minds into this grouges yarn. I think it's intentionally but it does remind me of that fun ice cream and the colours are fresh and modern.
This yarn is primarily geared for babies. There is 'dippity dots' added the strand to move the yarn up the scale for brilliance and design qualities. It is suggested that you use both a 5 mm in knitting needles and or hook size. The yarn is made up of 39% Acrylic, 32% Nylon and 29% Polyester. It is packaged in 80 g or 2.8 oz ball sizes.

One major aspect that appeals to me is that this yarn isn't overly stuffed with dippity dots. In other yarns, sometimes it's too think or very difficult to see your stitch work. With this new yarn, that is not a problem at all.

This yarn is about the $6.00 price range. For the new baby in your life, this is more likely worth the cost and looks that can be achieved.