Blue Waves Crochet Baby Blanket + Tutorial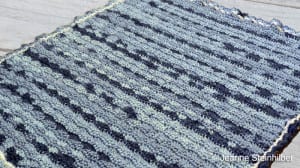 Blue Waves Baby Blanket
I came up with this quick and easy blanket because I have had this yummy yarn in my stash for a while just waiting for the right project to show off the ombre effect.  Well, turned out I was in need of a baby boy blanket, so off work I went.  My finished blanket is about 32″ x 34″.
Blue Waves Baby Blanket
by Jeanne Steinhilber
MC – Caron Simply Soft Ombre – Saturday Blue Jeans – 4 skeins

CC – Small amount of a contrasting color – I used white

5.0mm or Size H Hook

Tapestry Needle
If you would like to change the size, this is worked in multiples of 6 + 2.
Chain 98 with MC.
Row 1 – Sc in first chain from the hook, *hdc, dc, tr, dc, hdc, sc;  repeat from * to end.  Turn.
Row 2 – Ch 4 (counts as first tr), *dc, hdc, sc, hdc, dc, tr;  repeat from * to end.  Turn.
Row 3 – Ch 1; sc in first stitch, *hdc, dc, tr, dc, hdc, sc;  repeat from * to end.  Turn.
Repeat rows 2 and 3 until you reach the desired length.  Finish off.  I did 64 rows on mine.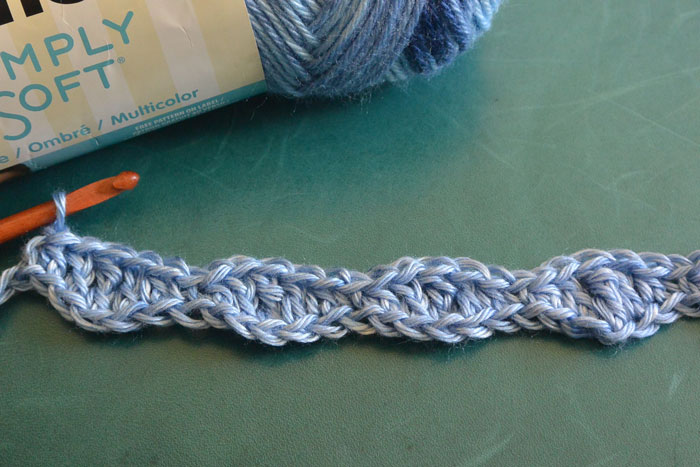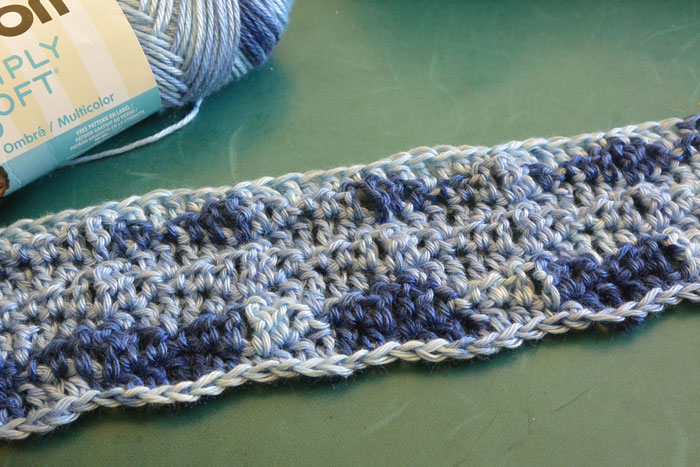 Border
Row 1 – Change to CC by attaching in any corner by putting 3 sc in the corner.  Sc around all 4 edges, with 3 sc in each corner.  Join with slst to beginning and finish off.
Row 2 – Join MC in the 2nd sc of any corner and ch 3; in same stitch, 2 dc, ch 1, 3 dc.  *Skip 2 sc, in next stitch 2 dc, ch 2, 2 dc; repeat from * to next corner.  In corner stitch, 3 dc, ch 1, 3 dc.  Continue around to beginning, slst to top of ch 3.  Finish off and weave in ends.
Video Tutorial Below

Click here to save to your Ravelry favorites.
Be creative! 🙂 – Jeanne – The Crochet Crowd