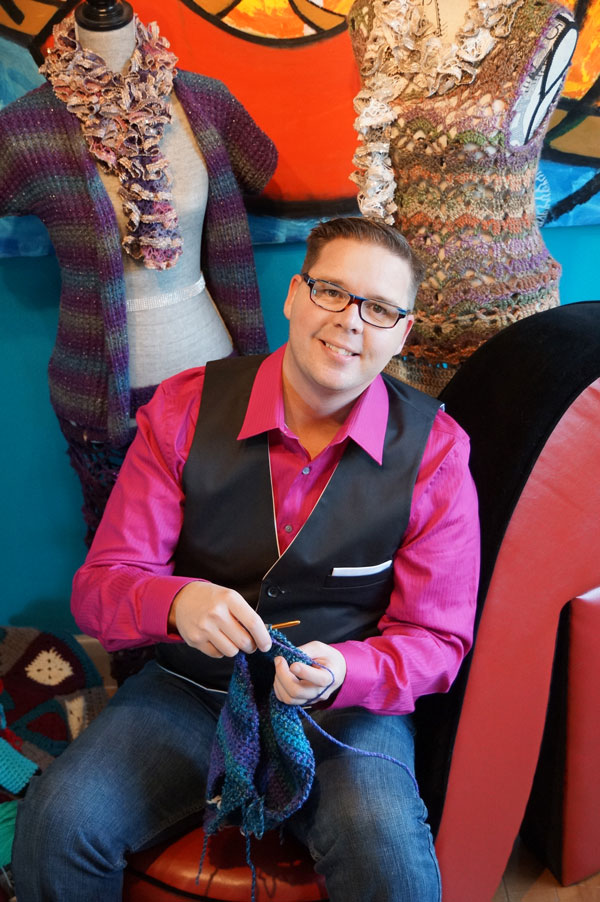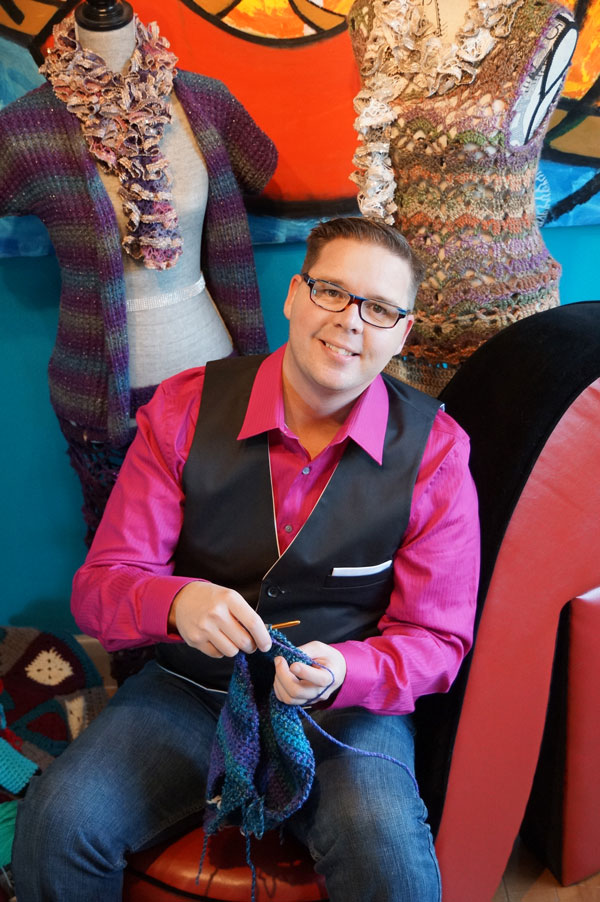 Encouragement through Decisions
In determining great leadership and people worthy of loyalty, I was thinking to myself the following:
What makes for a great leaders and/or boss?
I have the natural ability to be community oriented and to lead when it comes to the yarn arts. It is my hope that people do exceed me in conceptual ideas to further their own creativity because that is the process and growth we each have. Other people may feel they need to be at the top of the pyramid by ensuring no one trumps them, I find that counter productive. But where did I get that attitude?
Though it could be contributed to genetics, I think it's more about your environment in life experiences that allow you to find your leadership qualities.
I hate to be the type of leader that dictates. I hate to give people crap for anything they do. That is my biggest weakness I think. I was always taught to compromise and not defend. Walk away instead of fighting the fight.
My Parents
Both of my parents were actively involved within our extra curricular activities as kids. Most times, they were the highest level leaders of a group. Sometimes, I would think that you could never really escape my parents because they were so involved in the church youth groups. But as a kid, I didn't see it from the same perspective that I see it today. It wasn't about controlling us kids or even just keeping an eye on us. It was about being involved in the community and loving it. It was in their nature to be like that.
For a time in our lives, we lived on the bare minimums of what life could offer us. I really don't know how my parents managed to raise us kids from when I was about 11 years old and younger. My dad worked full time, occasionally being laid off in the fluxes of the economy causing it to be really tight. I remember my mom sacrificing food for us kids. Splitting a box of Kraft Dinner between 4 people. My dad worked an afternoon shift… so he was home after midnight each night and sleeping when we got up. They did what it took to see us through.
My parents even did the flea market circuit of selling kid's toys. One year, our entire Christmas presents were things that we had seen on the Flea Market Tables of products they were selling. As a kid, you really don't comprehend the struggle because they didn't make it our problem.
One thing we did have was community and family involvement. My mom was the emotional role model in my life. I think the more creative one of the two. My dad was the business minded and gave practical life advice. Both of them though, when they set their mind to things, they committed and stopped at nothing to achieve their goals. They weren't workaholics like I am. I bury my feelings into work. Today, I use both of the personalities of my parents to be who I am today.
Mom and Dad made us feel part of the decisions while growing up. They had their ideas but allowed us to express our thoughts with allowing us to experiment with our thoughts. In many ways, it wasn't about us conforming to what Mom and Dad wanted, they wanted to us to know that our opinions, ideas and creativity should be explored at the same time.
Respectfully, I wasn't a typical teenager of having anger issues and/or even fighting with my parents. I didn't have a need for it. While I never partied, did drugs, tried smoking and any other rebellious activity, my teenage years, to some, may be classified as boring. I used my years to have goals, observe and mould my future.
My First Real Bosses
I got my first job at Tim Hortons, coffee shop, when I was 13. It was a terrible job and I quit about 3 months into it. I worried my parents in the sense I had quit something instead of sticking it out. They didn't want to a raise a quitter but I had my reasons.
I was never quick enough at the job, according to the owners, supervisors and anyone else wanting to take a crack at me. I was constantly compared to another boy that seemed to do everything really efficiently. He was well liked as well. I couldn't ever measure up.
They would ask me to do double shifts of working two 16 hours a day because they were short handed. With the owners, I was constantly on alert. Conscious of the video surveillance as they would watch it, come out of the office and give us crap for something. I don't think they were always wrong though. The entire crew was 12 years to 17 generally. We were all very young. The turn over rate of employees was a constant revolving door.
There were times where I, being 13 and the front server was 12, were left alone in the store for 2 hour spurts. One night, we ran out of change and couldn't locate our supervisor as he had snuck out for a date and the owners were at home. The girl and I got in so much crap from customers for not being able to make change. We got in crap from the supervisor for running to find him to help us and wrecking his date. We also got in crap from the owners for not foreseeing that we might run out of change to divide up the change back in different coin increments. Come on, we were 12 and 13 running a coffee shop on our own. Someone should be crap and it shouldn't have been us. We could have been robbed or had a drunk walk in causing a scene. Honestly, we were scared. I didn't feel safe, nor appreciated.
What finished me off was the lack of trust. I was a robot that was failing. The one owner would sit in the parking lot at night and observe us. They could see us through the windows but being the reflection of the bright lights inside, we couldn't see out. We were getting in crap for what he was observing. Easier to give us crap for just watching then knowing the circumstances for decisions. It's like watching a silent movie. One owner wanted one thing, the other owner wanted another. The employees were caught in the cross fire of not following instructions.
It was hell and I will defend my decision to quit.
The Boss That Changed Me
I was really taken back by the 'real world' of my first job. Is this what the world is like?
In 1988, I got a job at a retailer called Bargain Harolds. I was now in grade 10 and 14 years old. I was hired on the spot, I think they were desperate at the time. I wasn't a fan of the boss as he was a bit unpredictable. If your ideas weren't his, they weren't taken into account. Being new to the retail world, I thought this is how business operates. Take it or leave it. Time for me to adapt.
The boss was switched out within 2 months of me working there. A woman by the name of Kathy, I believe now was potentially in her 20's at the time took over the position. It was a huge change for personality and management style. A boss that I would come to admire.
Today, I prefer to work with women on a business level than men. I find I can connect better and I think it's a result of working with Kathy.
Kathy became my mentor in the way she conducted herself. She rewarded you with more hours if you put your best foot forward. During each shift, she would discuss the goals of the shift with plan-o-grams and merchandising ideas. She had her goals and was open to suggestions. Many times, the plan would change based on idea presentations. She didn't treat as stupid employees but appreciated us having ideas and the willingness to share. Though it was a retail chain, all of us, including Kathy, has a sense of ownership in allowing us to gear the store to the demographic and shopping behaviors of our local customers.
I will tell  you, I wasn't the fastest stock boy. But when I did my work, you can guarantee that some of the guidelines that were in place were being followed. We had limited stock space in the back and it was our job to ensure new stock was always coming out. Though, the store food and hardware supplies were boxes stacked and merchandised, other stock boys would pull stock from under the pile instead of bringing out new stock. I was slow because I wasn't cutting the corners.
Kathy became the person I could talk to about my problems. I honestly believe today, if it weren't for Kathy, I may not be here today. She gave me a sounding board when I needed it at a very critical time in my life.
Kathy trusted me and with Sunday Shopping In Canada just being legalized around 1991 or so, they had an extra day in the schedule to worry about. To relieve staff, I became the youngest person in the history of the retail chain to be a key holder and supervisor. At the age of 16 years old. I loved the job and worked there for 4 years. The chain eventually went bankrupt on my last year there and I was in college and ready to move on to something bigger and better.
A Great Boss
Kathy taught me to work with the strengths of others and to express ideas that was worthy of exploration. She taught me not to be afraid to express ideas, but also understand the company's goals at the same time and work together in achieving the same goals while not being a robot at the same time.
She taught me to question things, operational procedures and to give new ideas a try. Not all ideas are a great one, but they are the stepping stones to further ideas in the future. When these simplistic and what appears to be stupid ideas are ignored, personal growth, ambition and wanting to succeed are suppressed making us turn into people who are filling a position. I would rather be a valued member of an organization through creative exploration.
Creative Suppression
In my later years, working for another company. My ideas were completely suppressed and we were not granted time to discuss new ideas. I was dead inside. I was looked at as a warm body filling a role. Reminded, through statements and over all attitude that everyone is replaceable.
Being it's 2014, I still cannot believe this attitude still exists as I think there is enough supportive research to show that an employee that feels threatened, worried or feels invaluable to a company is an employee that will not have the best interest of the company in mind.
We would sit in meetings where the owner would tell us we should love our jobs, be grateful to be employed and don't look at the job as an inconvenience in our lives.We had most of the workforce that was unhappy and unwillingness to put their 100% effort forward. With a looming invisible axe hanging over our heads, there wasn't much to be happy about working there. When new people would start, it would be a couple days when the employees would warn the new people of what to expect.
Choosing the Right Boss
Though some of us don't have options and I know that I was in a position earlier in life to not be choosy as times got really tight. Bosses don't hold all of the cards of our future. If you have opportunity to witness your future boss in action. Go with your gut. If you see them mistreating people, or seeing the employees body language being defensive, it's a tell-tale sign that something is wrong.
It's my hope that one day, that being the 'boss' doesn't make them better than us. We look to them for leadership and direction without feeling belittled along the journey. Though I believe that some courses try to get managers to be hard as nails, a little bit of flexibility goes a long way.