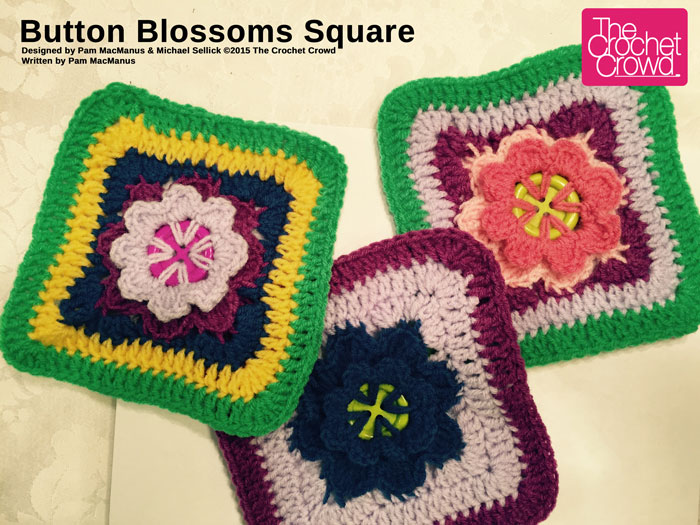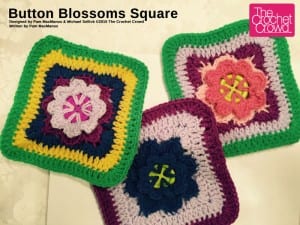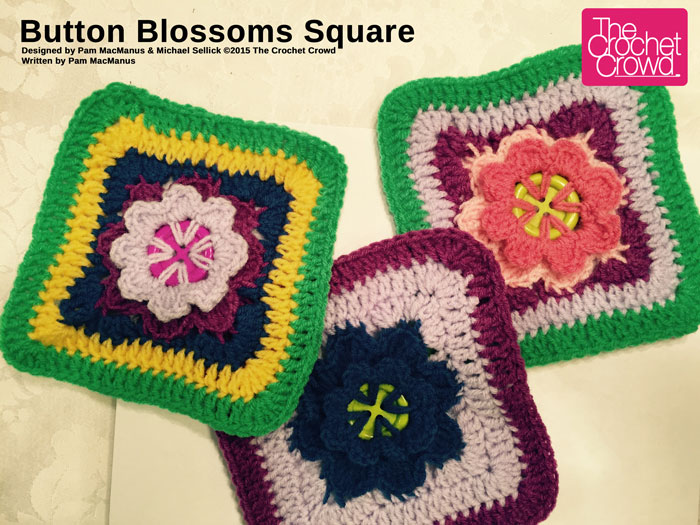 Button Blossoms Square
Introducing the Button Blossoms Square which incorporates a real button into the middle of the granny square.
Pam MacManus and I developed the concept together while on The Crochet Cruises back in February 2015. It was Pam's idea to figure this out and we worked on it together to figure how to do this and keep the granny looking flat and consistent.
Pam did a remarkable job in putting together this free pattern. It's a free PDF Download called, Button Blossoms Square Pattern. She did a remarkable job in doing a photographic tutorial to show you what to do! You are welcome to save the PDF and/or print it out. All photography is Pamela herself to help you along the way.
Pam's Inspiration
I saw flowers with buttons sewn in the middle of an afghan but nothing incorporating them into the actual crochet project as a starting point. So with that in mind, I started looking for the right size buttons that had holes big enough to pull the yarn through. I tried pulling the yarn through only one time through each hole, but that didn't make it ruffle enough for me, so I experimented with pulling the yarn twice through each hole. That worked!
Then there was the issue of how to make that flower into a square and how many flowers I wanted to make.  Although I wanted all yellow centers and not a mixed array of colors, that meant a search for the yellow buttons without having to buy multiple variety packs and picking just the yellow ones out. To no avail, I ended up buying several packs of variety colors and kept picking out the yellow buttons for making the flowers.  I wanted them to have multiple layers because they were too flat and I wanted it to be soft so that the buttons wouldn't hurt to lay on.  So I worked on improving them to have two fluffy layers.
Now how do I make this round flower into a square?  I frogged so many times that my yarn was looking worn.  It was my project on the Eastern Cruise 2015 to hopefully grab just a second of Mikey's time to get his thoughts on how to make this happen!  We were able to sit down together and brainstorm some possibilities one afternoon.  The only written pattern we made, I had to give back as it was only a  borrowed a piece of paper.  After returning home, I took the sample and made a few tweaks to it to close up a few gaps in the square, thus the button blossom square was finally a reality!  My first design!
Mikey's Comments
Pam came up to me to ask me if I knew a design that could incorporate a button in the middle of the square. Being on a cruise ship, access to the internet is really limited. Initially, I said I didn't know but then I was thinking more and more. The only way I can play with it is to try it out and write down the steps in a diagram. The diagram has been provided in the pattern. This is what we did on the ship together.
Yes, we frogged and made up our own rules as we went. Pam was in the process like a dirty shirt enjoying the process. She wasn't too familiar with crochet diagrams so while we were working together, it was an opportunity to learn not only to design something but to teach how to read crochet diagrams too. It was a lot of fun to be honest you.
Enjoy her very first pattern. Though we worked on it together. She did the leg work to prepare a finished afghan and to make some tweaks.