Social Media for the Crafting Industry: Mikey's Presentation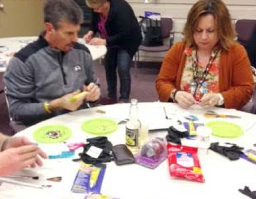 Mikey will be speaking on behalf of Coats & Clark Canada, makers of Red Heart Yarns, at the 2nd Annual CHA Canada Designer, Educator & Creative Professional Spring Retreat on June 6 – 8, 2014.
It's a weekend long event for crafting professionals and for Craft & Hobby Association Members. If you are not a member, you can apply for a year membership with CHA.
Location is the Kempenfelt Conference Centre, Bayview Building in Innisfil (Barrie), Ontario, Canada.
Retreat provide an outlet of reaching out to other crafting experts to share information, build skills and be creative. At the end you most likely feel energized with new ideas and potentially new goals.
Mikey's Presentation

Speed your way beyond the beginning stages of understanding social media. Mikey will share his knowledge on key elements that contribute to his success of acheiving one of the leading crochet communities online. The skills and tips he will share apply to any industry when trying to build a community and following. 
Many designers realize they have to promote themselves. Once a book or concept is created, the job of marketing has just begun.
Mikey is extremely passionate about social media and the responsibilities of running a successful plaform. Be a leader, not a Diva. 
You will find Mikey's 'off the cuff' talk to be informative and inspirational. Mikey will share Search Engine Secrets (SEO) and key concepts to ensure your content and marketing is the best it can be.
If you would like to attend this weekend retreat, you can get more information here. There is limited space, be sure to inquire as soon as possible.