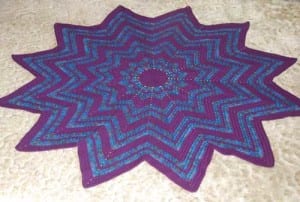 Charity Crochet
I crochet everyday.  I really don't need too many more blankets in my house, so I find crocheting items to donate to charity events very rewarding as the donations are always appreciated.
I live in a small community which there are always opportunities to donate some of my projects locally.  I crocheted Mikey's Spectrum Afghan as my latest item for an upcoming charity crafting event that I will be attending to be used in a raffle.  This is the 7th year for the event and it raises money for the Leukemia and Lymphoma Society.  I used Caron One Pound, in Deep Violet and Peacock Variegated, 2 skeins each color.  This blanket it 66″ from point to point.  I had more yarn, but thought it was a nice lapghan size.  I love this yarn for blankets.  It crochets smoothly and washes nicely.
There are so many causes that are looking for all types of crocheted items.  If you are not familiar with any in your area, check out the Charity Locator Map for a group that interests you.
Video Tutorial
Video tutorial is only available in right hand.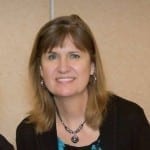 Be creative! 🙂 – Jeanne – The Crochet Crowd