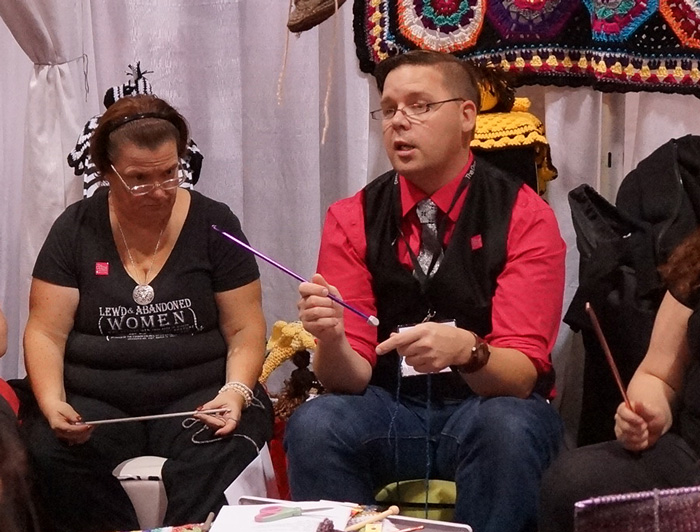 Child Settles Down After Learning Crochet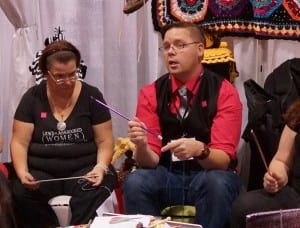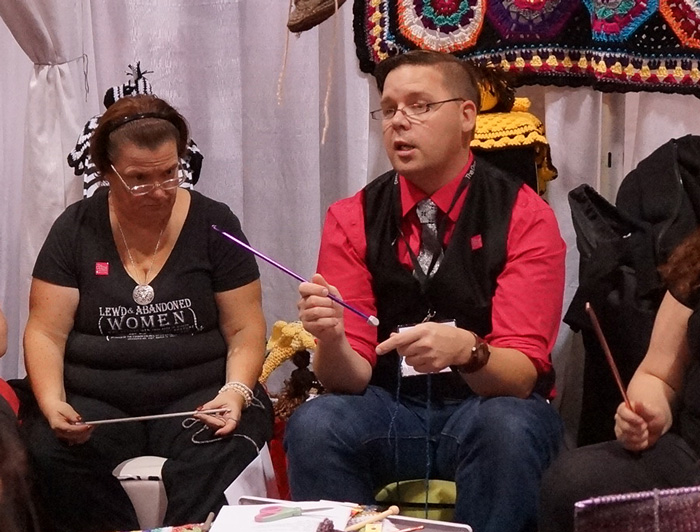 Child Learns Crochet
I had the pleasure of meeting a 10 year old boy yesterday. While visiting the Spinrite Factory Outlet, he came up to me and said, "I know you, I watch your videos!"
So I asked him what he is working on and he had a plastic shopping bag with a WIP inside plus a few finished dishcloths. He has been following the Tunisian Series that I taught for Yarnspirations.
So I asked him questions about his project. Trust me when I tell you think, his Tunisian Dishcloths were really super. Fabulous stitchwork… he's got it down pat.
He explained me while learning his edges kept going narrow to big but he mastered his tension and figured it all out. He's now selling his dishcloths.
The Back Story
Afterwards, I asked further about this young man. Turns out, the boy has been diagnosed with ADHD. Doctors have prescribed medications for it. He was difficult to manage and any parent that understands exactly what this means, knows it's tough on the child plus the family.
The young man expressed interest in learning crochet on a whim. I'm unsure if he saw me doing, as a guy, that it peaked his interest. His mom said to herself, "If he wants to learn, there's no harm in that." Partially learning the basics from his mother and using my videos as an aid to help him expand his skills.
He recently picked up the Tunisian skills based on our series in June.
He's been described as a completely different child today verses a year ago. The store hosted some free learning workshops that he sat in on. Though he was struggling with the knitting, he had a breakdown during the class because it just wasn't coming natural to him. Instead of giving up, he decided to keep on with the crochet and then Tunisian gave him the skills that has a cross of knitting and crochet.
The child has learned focus, motor skills, a bit of math and has an amazing sense of accomplishment. He has the ability to exercise his creativity with the encouragement of his mom. To have him settle down and focus has been extraordinary.
In a world where ware constantly blasted with stimulants such as TV, electronics and we have the sense of everything has to be delivered immediately as patience is so difficult to manage.
I was reflecting this morning with Diva Dan. My mom would have described me as a hyper kid. However, the idea of arts and crafts where a major part of my childhood. Maybe my mom realized back then that sitting down and doing crafts with us allowed us to focus and have a sense of accomplishment that she would feel when she finished items. My mother would quilt, sew doll cloths, knit and crochet. She was bi-craftual. Today, my mother doesn't participate in any crafts.
Final Thought
As a disclaimer. I'm not saying that Crochet will solve behavioral issues in children. I'm relaying this story because I strongly believe that creativity in children must be encouraged. While it has been nearly removed from the education system. I wonder out loud, maybe if the level of creativity was increased in schools that the children of today would react differently and be easier to manage.
When I was in primary school. One of the after school activities was cancelled that I really enjoyed. It was hosted by our teacher. I remember the teacher telling us that they were not paid for the time after school to spend with us and the program had to be cancelled. That was that, game over. Though I get that finances are an issue for the educational system, it just really sad when the educational system cannot recognize the teachers who would like to contribute to programs like this, giving them bonuses or incentive programs for going above and beyond.
Personal Thought
I was a step parent for 5 years. We were having issues with one of the kids with really poor grades. I got the permission of the school to secretly visit the class while class was half way through. I walked in the door and my jaw hit the ground.
Though the teacher was teaching and going on about getting better grades. She was teaching but most of the class were talking to each other not even faced forward. You can tell the teacher had given up on the class and from what I saw, I didn't blame her one bit. She has no power and for the kids that want to learn, they have no hope.
My own step-child was sitting in class listening to his iPod with both ear pieces in. He wasn't the only one. As soon as he seen me. He swallowed the gum he is not allowed to chew in class. He instantly pulled his ear phones out and opened his book. He was surrounded by a group of students doing the same thing. He was to have a paper written by the end of the class. With only 10 minutes to go. Absolutely nothing was produced.
At the end of the class, he and I talked in the hallway. He cried with embarrassment that I had shown up. His words carved one of the biggest emotional wounds in me. (I'm started to cry as I reflect on this because it hurt me so much). *wipes tears away*
He was like my own child, though I was a step parent. He said, "Now all of the kids are going to know I have gay dads!" as he walked away. I was left so hurt and I know kids can say really mean things. We adults can say mean things too. It goes both ways.
My concern was for his educational well-being as I foresee that many of the students in our region leave school before finishing. I wanted to give him the very best so he starts off right as an young adult.
My relationship with my partner was already on very rocky ground. This is my blog and I can be honest. I realized in that very moment that I cannot change who I am and be a different person for him. My relationship finished 2 months later and I went my own way. It wasn't a result of of the child, but the differences my partner and I had developed over the years. Our time was finished and we both needed to move on.
After this experience, I vowed that I never wanted to be a step parent again. It was one of the hardest experiences of my life. I don't want to have another child directly involved in my life where my presence needs to be disguised to prevent the child from being bullied or abused at school over who I am. The abuse in today's schools from bullying is undeniable and everyone in the house feels it.
He was 13 when I went my own way and my new chapter with Diva Dan started. Fast forward to today and the child is now 20. He ended doing okay. He said he appreciated my what I did for him as a child.