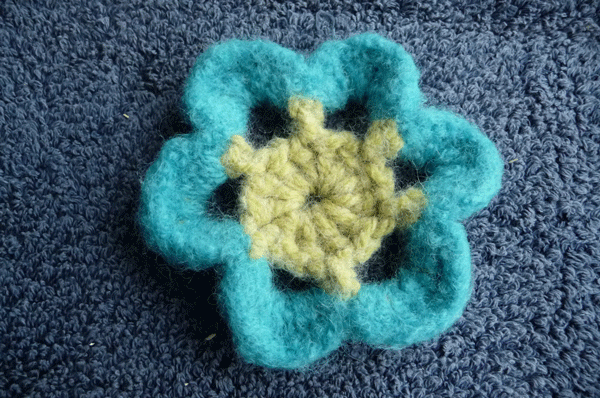 Large Whimsical Flower Pattern
Large Whimsical Flowers Pattern
The felted flower will measure approximately 5″ diameter. 
by Michael Sellick, The Crochet Crowd
Materials:
Size K Crochet Hook or 6.5 MM
Yarn:
2 balls of your choice of colours. You can use Bernat Super Value or Red Heart Super Saver to keep this minimal in cost. You can also use your favourite choices of yarns and try some new looks that go beyond economy yarn choices.
Free Pattern:
CH 4 and Join with SL ST to the BEG CH to form ring. 

CH 3 and then DC 11 Times around The Ring. SL ST to the top of the BEG CH. 

* CH 5, SK First stitch and SC into the next. Repeat from * all the way around. On the last SC, secure to the base of the BEG CH 5. 

Fasten off. 

Fasten on New Colour to any one of the 6 loops. *In the same loop use the looping string to hold the stitches. Crochet around the loop and not into the stitches. 1 SC, 1 HDC, 3 DC, 2 TRC, 3 DC, 1 HDC, 1 SC. Jump immediately to the next loop and repeat from *. On the last loop, SL ST to the beg SC to ensure the flower colour goes all the way around without a gap showing. 

Fasten Off.

 
 Enjoy