Crafting For A Cure April 2013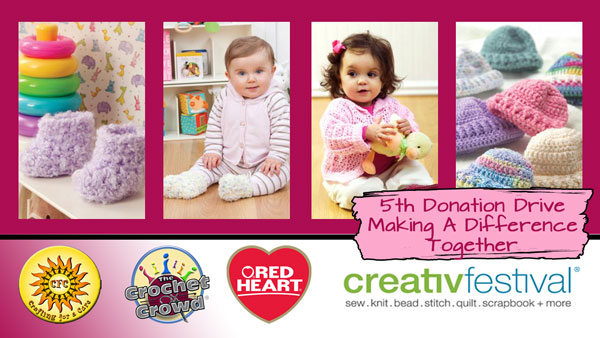 Crafting For A Cure
The Crochet Crowd is ready for our 6th Donation Drive to collect baby booties, baby hats, and clothing for preemie & newborn crochet / knitted items. We prefer hand made items but you can decide to make a cash donation if you wish. You can donate cash by going to Crafting For A Cure Website and get more information about that.
Our Donation Drive is Active Now To April 20th, 2013
Click read more to see further details and our mailing address.
Our Pledge
The donation must be in by April 20th, 2013 in order to be featured on Facebook.
One Photograph of your donation will be taken and submitted onto Facebook to show off your creations with our Facebook Audience.

We will not be doing YouTube Videos for this year's drive due to the amount of complaints received by YouTube users for our previous 5 donation drive series.
More About Crafting For a Cure
Learn more about Crafting For A Cure. I've chosen this charity due to the global outreach that they provide. I'm a global teaching resource and it makes sense to support a global outreach program verses a local charity that is only benefiting my community.
Our crowd has been responsible for over 9,500 donations to date. We have provided donations for 66 hospitals.
Free Patterns Suggestions:
Feel free to be creative in what you think should be donated.
Use this video tutorial to crochet up a Preemie Crochet Sweater.
Send Your Donations To
The Crochet Crowd Studio
10 Mullen Drive, PO Box 473
Walkerton, Ontario
N0G 2V0
Canada
If coming from outside of Canada, please state that it's a gift to avoid Custom Duty Charges.