Creativ Festival: Most Outrageous Display Ever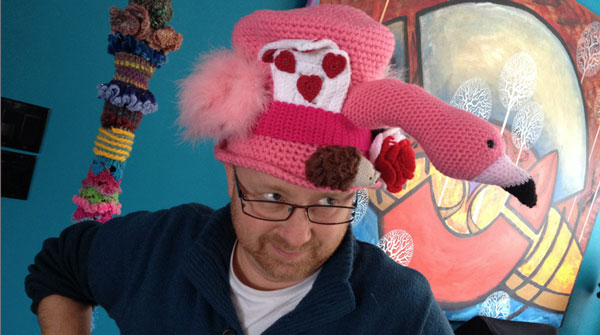 Bring Your Camera! You Will
NOT

Believe Your Eyes!

For the last 3 months, Crochet Crowders from around the world have been designing their own Alice in Wonderland Top Hats. Our 'Crowd' was given a complimentary Top Hat Pattern that was the basic outline. Once the hat was completed, crocheters were charged with the mission to take the hat and embellish it to have a concept of Alice in Wonderland.

Currently, we have over 200 top hats with each telling a peice of the story of Alice's Adventure. It is jaw dropping to witness the creativity from each and everyone. Everyone pushed themselves to be as creative as possible with free forming, revamping patterns and going above and beyond the expectations. We cannot thank our fans enough for the opportinity to showcase to others to what they are missing.

We will have an outstanding deal on yarn that always creates a a yarn feeding frenzy. We have 18 Brands of Red Heart Yarns + for the 1st time some James C Brett, Schachenmyr and more at prices that will allow you to stock up! We have new yarns that have barely reached into Canada yet. We have brought one brand that isn't available in Canada just to allow Canadians to sample it! Some brands include new colour selections of favourite yarns but also try the new Reflective, Swanky, Sizzle, New Sashay Lines, Sashay Mini and many more. With our Buy Any 5 Items, Get a 6th Item Free, you will be saving a mitt load of cash! Also, the 1st – 300 Purchases that are over $10 will receive a complimentary Red Heart Tote Bag. To be up front, our booth goes through 800 transactions typically on the first day… The yarn selections will not last long. While at the show we accept Cash, Visa, Mastercard and Debit.


Diva Dan is wearing the Flamingo Inspired Top Hat. Inspired by the golf scene from the Tim Burton Movie of Alice in Wonderland. If you think this is outrageously creative… Seeing over 200 more of hats that are enriched with creativity from our audience at Creativ Festival is going to knock your socks off!

I've selected a few hats to wear during the show to celebrate our creativity with our fans.

Our goal was to try for 50 hats. Due to overwhelming response, our booth at Creativ Festival was expanded into an additional solo exhibit of the Top Hat Garden.

We have photographed every hat that will be available to see on April 20th, 2014 and beyond. At Creativ Festival, the entire exhibit of each and every hat will be on display. It will be the only time the entire collection of hats will be on public display.

We have a lot of Cheshire cats… each are unique and extra special. Just for a joke, I have been considering crocheting up a litter box and put one of the hats in the box as a show floor funny. It's Creativ Festival after all, creativity knows no limits.

I encourage you strongly to come and see the exhibit. Even more importantly… BRING YOUR CAMERA!

We have another show floor secret that will not be revealed until the day of the show opening. This other secret is expected to be photographed a gazzilion times as well!

In our committment to charity oriented activities. Each hat will be for sale. 100% of the proceeds will used to created Scholarships for Post Secondary Students in the Fashion Arts. Scholarships will be awarded in the Fall of 2014 at Creativ Festival's October Show.
We Have Yarn!
On top of our exhibit. We are bringing 18 brands of Red Heart Yarns with us. We have new yarns that have barely reached the Canadian Market. We have new colours and the entire colourlines of all of the yarns. We have a maxmimum of 6 – 12 balls of each colour on hand. Our goal is to sell out. It's not hard to sell out as we offer a show deal of Buy 5 Items, get a 6th Item Free.
On top of our show stopper that creates a feeding yarn frenzy. The 1st 300 Purchases of over $10 will receive a complimentary Red Heart Tote Bag. 
Creativ Festival
The Crochet Crowd is heading back to Creativ Festival on April 25 – 26th, 2014. It's our 8th show where we are known for going 'mad' for yarn. We've become a show floor favourite due to creativity created by Diva Dan and I and, of course, the community involvement from our global crocheters. Every show, we present ideas to our audience for helping us build an exhibit that goes way beyond expections.
We are known for having incredible show specials on Red Heart Yarn. We recognize that consumers are looking for deals and we gladly offer show specials that are below retail prices plus add extra incentives. Stay tuned for this year's show incentives.

2014 Spring Exhibit Theme
Alice 'Hooks in Wonderland… The Crochet Crowd has fallen down the rabbit hole and has landed smack dab in the middle of Wonderland. This yarn-tastic exhibit will capture your imagination created Mikey and Diva Dan based on the popular fairytale. The 'yarn-tale display will dream up 'Creativ characters and will allow Creativ Festival Guests to travel through the hallucinogenic yarn dream state of Wonderland by inspiring fun and fantasy for all. Sponsored by Red Heart Yarns.
Our exhibit's purpose is to inspire crafters to get involved and be excited by crochet. It awakens imaginations and the inner child within crafters who attend Creativ Festival. For the children and young adults who attend Creativ Festival, it opens up a gateway of creativity to see that crochet can be interesting, fun and easy to learn.

Our exhibit will have different elements of the Alice in Wonderland Story. The story being told from a crocheter's perspective. Together, with our community members, we will take Creativ Festival guests on a visual journey. Guests should expect the unexpected. Guests are educated on the show floor with the creativity of our exhibit. We gladly stand beside our community members' contributions and share the story of The Crochet Crowd. When we share about our community, it creates a connection and exhileration on the show floor. Cameras suddenly come out of purses and people are eager to share what they see with their family and friends.
We are asking The Crochet Crowd Community to help us crochet a Mad Hatter Showcase Exhibit.
The New Crochet Crowd Scholarship Program
The creation of The Crochet Crowd was founded on the principle belief to inspire, create and celebrate. Our mission has been to provide free education in the form of crochet tutorials, engaging crochet community support and to encourage others to explore their own creative journey.
With our core principle beliefs as our foundation, Diva Dan and I are extending our reach to provide financial assistance in the form of Academic Awards for 'creative based' post secondary students. We would like to help students persue their dreams and lend them a helping hand. 
From Fashion Hats to Fashion Students…
All hats submitted for The Crochet Crowd exhibit will be part of an all new fundraiser, with all proceeds going towards creating Educational Awards for Fashion Design Students in Ontario, Canada. Visit the Crochet Crowd Booth #153 on Saturday, April 26th between 2 pm and 5 pm and get inspired to place your bid.
The 5 Winning Hats will be released after being showcased again at the Creativ Festival, October 24, 25 & 26 at the Metro Toronto Conventional Centre in Toronto, Ontario Canada. Up to 30,000 Creativ Festival Guests to view once again.
You have a chance to win 1 of 5 – $500 prize packages, the opportunity to showcase your creativity and the added bonus that your hats are also giving students an opportunity to persue their educational dreams through The Crochet Crowd Scholarship Program.
Five $500 Prize Packages To Be Awarded
Special thanks to Red Heart Yarns, Creativ Festival and The Crochet Crowd, the following are the breakdown for the prizes being awarded. Each of the five prize packages are the same.

Red Heart Yarns, Fully Loaded Yarn Bag that includes assorted yarns.
Creativ Festival, SWAROVSKI ELEMENTS Crystals, Design Book and 2 Creativ Festival Show Tickets. 
The Crochet Crowd, Yarn Ball Winder, Yarn Swift & Crochet Crowd Promotional Gifts.
Get The Free Pattern
Free Video Tutorial To Follow