Crochet Boho Ornament Afghan Crochet Along + Tutorials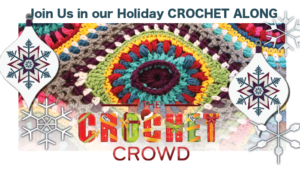 Crochet Boho Ornament Afghan Crochet Along
This afghan has been designed by me, Mikey of The Crochet Crowd. Originally finalized in August 2018. This afghan is designed to be extremely colourful and is a great way to plan an afghan through colour strategy or use up odd balls that is in your collection.
There will be two ways suggested for the shape of the afghan. One way takes 50 motifs, the other takes 52 motifs. The more colours you use, the more unique each ornament can look like. You are the creator of your ornament afghan.
Releasing of Clues
The clues are divided into 3 separate releases. You will find the releases on our Events Section of our Facebook Page. Click GOING on the event to send yourself a reminder. Clues will be in written, diagrams and tutorials.
Giveaways
We will have 3 random giveaways for those who complete this afghan. I'm giving you until New Years Day to finish. I know you have a lot of stitching to do. So I'm giving plenty of time and besides, if you don't finish before then, you will have it finished in time for next year. *Gulp… maybe!*
Santa's List
Click the list to download or print the list for your convenience. This list is part of a booklet for this entire Crochet Along. As the clues come out, the booklet will be more complete.
The list has a coupon code for Yarnspirations for Caron One Pound valid until the end of November. Use TCCCARON20 during check out to have 20% knocked off the price of your Caron One Pound yarns.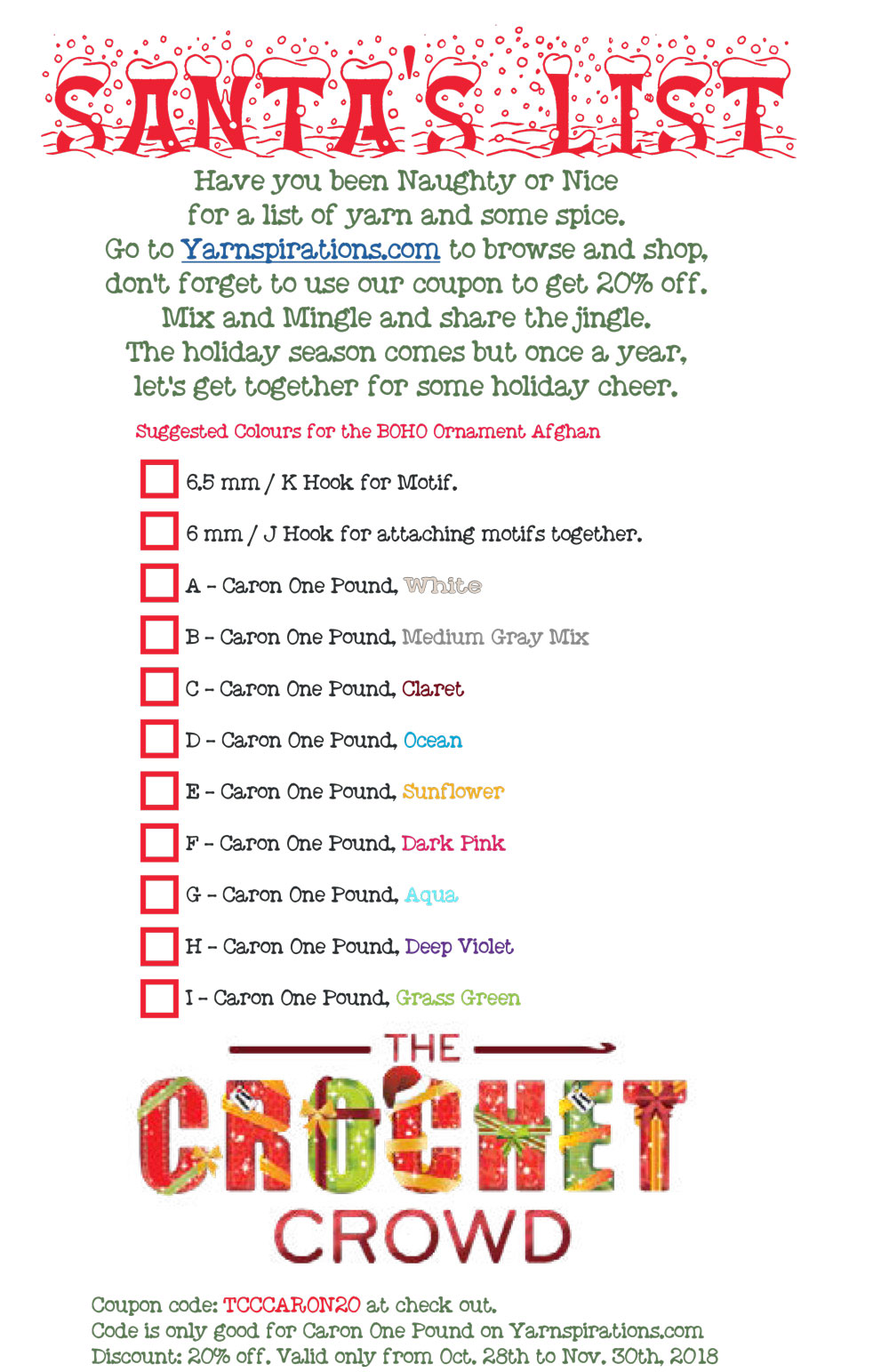 Santa's List for the Boho Ornament Afghan
Clue Rnds 1 – 3
Download or Print your Clue here. Each new clue, we will be adding additional clues to the download. By the end of the Crochet Along, the download will include all pages.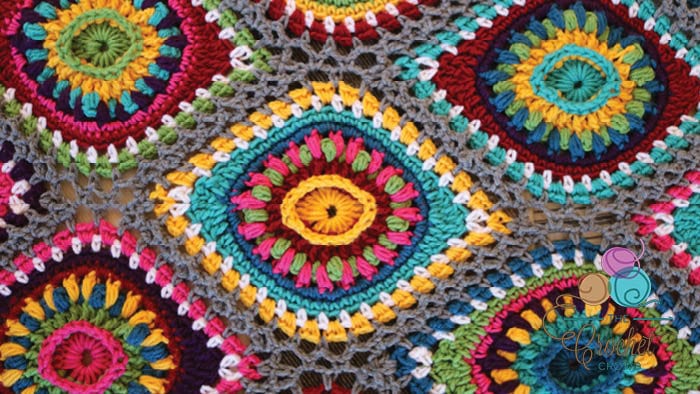 Tutorial
Yards per Round per Motif
If you would like substitute and determine if you have enough yarn. 96 yards per motif. Information is rounded up to the nearest yard.
Rnd 1 = 9 yards Same Colour as Rnd 9. 
Rnd 2 = 11 yards
Rnd 3 = 11 yards
Rnd 4 = 13 yards
Rnd 5 = 13 yards
Rnd 6 = 6 yards
Rnd 7 = 9 yards
Rnd 8 = 4 yards
Rnd 9 = 11 yards
Rnd 10 avg = 9 yards
Border is Unknown
Timing Per Motif
In the effort of designing and understanding timing. I have timed the average for each round to put in perspective. Rounded up to the nearly full or half minute. Once I understood the pattern and was about 5 motifs in, I would take a timing to be accurate.
Rnd 1 = 2 minutes
Rnd 2 = 4.5 minutes
Rnd 3 = 3 minutes
Rnd 4 = 3 minutes
Rnd 5 = 3 minutes
Rnd 6 = 4 minutes
Rnd 7 = 3 minutes
Rnd 8 = 4 minutes
Rnd 9 = 4 minutes
Rnd 10 Attaching = 4.5 minutes each. Final attaching takes about 3 – 3.5 hours to attach all motifs together using 50 motifs.
Close Up Photos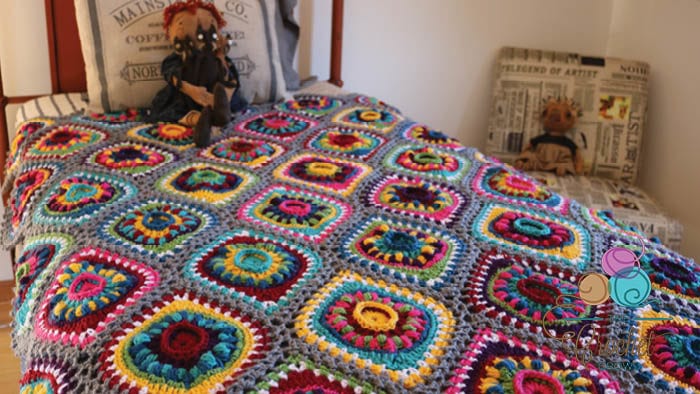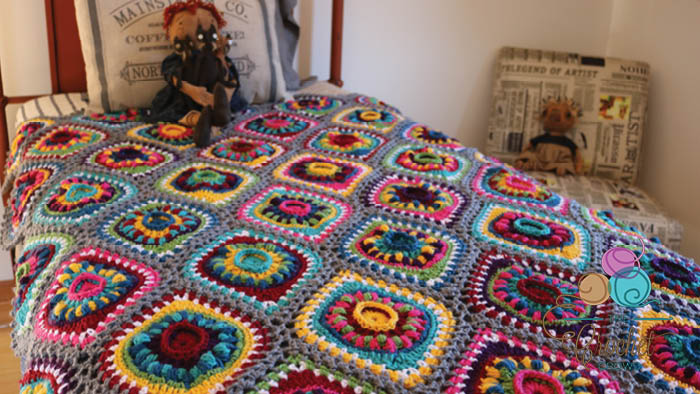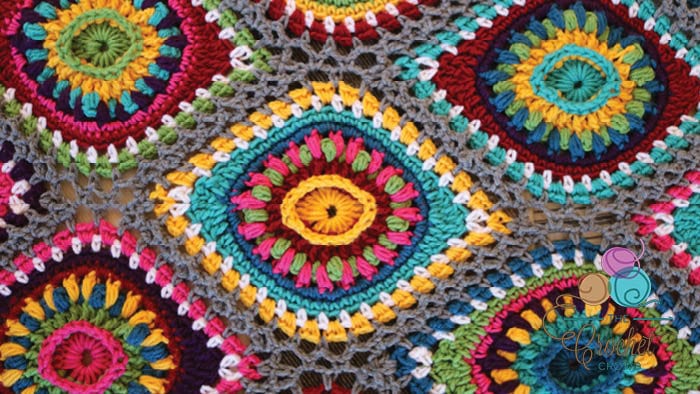 More Stitch Alongs