The Crochet Bond Between Us
The Crochet Bond
I had the pleasure to sit with a young woman during Creativ Festival near the end of the show. She had a yearning to learn crochet. She was excited about it and was curious about it. She wasn't wanting to learn crochet for therapy reasons. She was just interested in making items with her hands.
[column size=one_half position=first ]The show was winding down. I was exhausted in talking with 100's of crocheters and I taught this young man to crochet standing up with her. She was hooked on the momentum. I invited her to sit on our hooker alley chairs and let her friends wander off and she could practice. I began to clean our booth and preparations for packing up. Occasionally, looking over to her to ensure she was okay.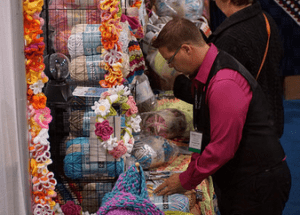 I won't deny it. Organizing and working a show booth is one of the most exhausting jobs there is in my line of work. People view my job as glamourous but the workload I face on a daily level is a never ending pile of expectations. I love my job so much, which propels my drive, but sometimes I just hit a wall on what I am capable of doing. I wish I could do more, I wish I could help more people… I wish many things.
Exhausted, I sat down on the high heel chairs with this young woman. My head laid back on the chair. The obvious question for me to ask:
"What brings you to crochet?"
[/column]
[column size=one_half position=last ]I was expecting a story but no, it was just curiosity. Nothing wrong with that but usually in live shows, I usually get told stories that are hard to hear and sometimes they hit me hard.
She was perplexed looking at me strange. Clearly, she wasn't turning to crochet for any other reason. I figured I better share with her more about where I am coming from.
With the show coming to a close, leaning back on the chair looking into the air. I told her that many people turn to the yarn arts for a release or healing mechanism. She was open minded to listen as she was learning to crochet. I shared with her my personal memory of my crochet when I was 14 was a way to validate myself. I didn't elabourate with her as her moment is in the learning and I didn't want to turn the moment to being all about me. It was her time to celebrate her new skill.
But with you on The Crochet Crowd, I feel I can level with you. Crochet for me was a way for me to feel important, even if it was just within myself. It gave me a reason to go to the mall to buy more yarn. It opened my creativity.
As silly as this may sound to you. In the hallways in school, I ensured I walked so quietly that I wondered if I was alive or just a ghost in the halls. I carried a carpet knife in my pocket on me. I didn't feel afraid but I felt it was an 'out' if I wanted it. Truthfully speaking, if I could erase any part of my life, high school years would be it. I see high school students today picking on other students. I see students screaming out the windows or saying something rude in the stores. It takes me back in time.[/column]
---
Well that was in my teenage years, crochet has followed me through life. I have turned to crochet as my healing mechanism. In person, I am really introverted when I am not 'Mikey of The Crochet Crowd'. I'm like many of you. Yarn is my therapy, even today. Appearances can be deceiving. Like some of you, I wear my heart on my sleeve and take things personal. I have highs and lows.
In person, I have two policies that keep me grounded. Policy one is the most important to me, as a person, but I know phony attitudes when I see it.
I strongly dislike the attitude of claiming things that are not true. If I have met a fan before and I don't remember meeting them, I will not claim I remember them. You never know if they test you to say "Do you remember when I said…?" and I say "YEAH YEAH YEAH…!" like a dummy when it never happened. Talk about egg on your face.
Many fans come up to say and say, "I Love You!" Truly, it's an honour to be appreciated but I really dislike when a celebrity tells you they love you when they don't even know you. Oh many that sends shivers up my neck. It just seems so fake.
One thing that surprises me so much is the fact that I do remember people's names. If you asked me their name when they not in front of me, I wouldn't be able to tell you. Soon as I see a face, it's the neatest thing I am ask them how they are doing and use their name. They are shocked I remember their name and frankly, I am too.
One of our sponsors made a mention telling me, "Michael you remember a lot of people? Do you realize how much that means to people?" I haven't really thought about that. Even if I cannot remember a name, I usually remember a face and yes, I sometimes get it wrong.
Someone's personality can fill me with light as much as bringing me down. I was nearly in tears at one point in the show as a woman shared her story of being a new window and attempting to take her life. It feels like a huge responsibility to have created a community to bring this person from the dark and into the light of our community. While Cathy, Daniel and I have created the community together, it's amazing that we three also turn to our community when we need a lift too. We protect our community because we need it like many other people.
Fan Reflection
A fan, that was banned last year, was removed due to creating conflict and using back handed compliments to others. When I removed her, oh boy did she let me have it. Truthfully, I wasn't surprised. She was pretty mouthy and love to have the last word.
In her harsh exit letter to me. She claimed that she took as much as she could from The Crochet Crowd and The Crochet Crowd had nothing further to give her. There was more in the letter but that was pretty much the kick in the head.
I sat back in my chair, pulling the dents out of my head from her silly verbal punches.
She missed the boat. But she nailed it exactly right. She took as much as she could with offering very little in the way of encouraging others. If she didn't get enough people liking her posts, or myself not commenting or for me to feature her more often, oh boy… did we hear about it. The Crochet Crowd wasn't a right fit for her. It was a one way street for her and communities don't stay healthy with that mentality. Not just cyber, any community for that matter. Such as a food bank, for example. The food bank relies on the charity of others to keep it stocked. When times get better, if we have received we have an obligation to give back to help others.  If it's a one way street, eventually they run out of donors and it collapses and people go hungry. That's when most organizations fall to their knees and close when the one way street mentality over powers the mission.
So I looked up at the cob webs at the ceiling at the office and I thought. The Crochet Crowd is a give and take. Not just for my team to say something or press the like button. It's The Crochet Crowd, there are 100's of thousands of us here. The relationship is give and take. Notice I said 'give' first before take. I'm off the persuasion that is better to give then to receive. However, receiving has to be in their somewhere and that comes from other Crochet Crowders sharing positive comments and likes to your posts too.
So while that former Crochet Crowder left with a bee in her bonnet and had the last word trying to tear us apart from not putting up with crap. Truth is, she taught me a valuable lesson of what community really is and that each of us have a role. She wasn't worth ruining our day as that was her mission. We couldn't give her the satisfaction as we had treaded lightly around her for a couple years.
While The Crochet Crowd remains free to all who want access to it, we can never forget our mission and what community truly means. We must realize how we each bring something to the community. Whether it's a photograph of show'n tell, sharing great news, or taking the time to see what others have done to give others praise to make their day.
So to bring me back to the topic of sitting with that new crocheter. I had a lot of reflection in my mind. I thought I would share some of that with you. The Creativ Festival was an amazing show, as usual for The Crochet Crowd. It's moments like this that cannot be bought… sometimes it's okay to look back, step back and think about the journey.