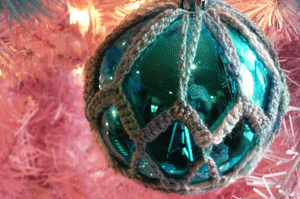 Crochet Christmas Balls Pattern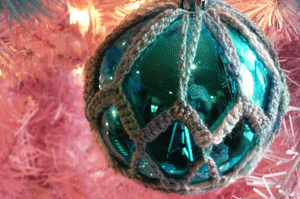 Crochet Christmas Balls Pattern
Crochet up some coverings to go over your existing Christmas balls for your tree. Easy to create and takes the Christmas Balls to another level of feeling 'homie'. Grab your crochet thread and hook and let's get to work.
Materials Needed
Plastic or Glass Christmas Ball. Size in picture is 3.5″ Diameter. You can use smaller balls but have to compensate on the last crochet line to make the cover tighter.
Bernat Handi Crafter Crochet Thread – Colour seen in picture is called "Adrift" by Bernat.
Size 2.5 mm Crochet Hook or Size B in US Sizes
Definitions
CH – Chain, SC – Single Crochet, DC – Double Crochet, SL ST – Slip Stitch, BEG – Beginning,
See detailed picture on bottom of the starting of the ball and what the stitches do when wrapped on the ball.
Free Pattern:
CH 8, join wth SL ST to form ring.
CH 3, 19 DC in ring. Join with SL ST to the top of BEG CH-3.
*CH 4, skip next DC, SC in the next DC. Repeat again from * all the way around with SL ST at the end bottom of the first CH 4.
*CH 5, SC in the CH-4 Space, repeat from * around to the end. Finish with a SL ST at the end of the bottom of the CH 5 spot.
Ch1, then * 3 SC in the same spot as the CH 5 space, then chain 9. Repeat from * all the way around.
Fasten off.
Cast on in the middle of the CH 9 Space. 1 SC then * CH 9 and SC in the middle of the next CH 9 Space. Repeat from * all the way around. SL ST in the BEG cast on space.
12 SC in the CH 9 space. You will have to squeeze these in the space. *12 SC in the next CH 9. Repeat all the way around. SL ST in the starting SC.
SL ST to the 6th SC,  then * CH 15 and then SC to the next 6th SC of the next space. Repeat from * all the way around. (If you have a smaller ball, you will chain between 5 to 15. Less chains will make the lace thread tighter to the ball. Too tight and it will not stretch around the ball. I would suggest trying half and then try stretching it to see it it's going to work. Just use an educated guess to best determined the perfect fit.)
Fasten off and wave in ends.
Using loops, thread a string through all the 10 loops. Wrap cover around ball and pull the thread tight and tying it securely around the top of the ball. You can substitute thread for ribbon or anything you see appropriate.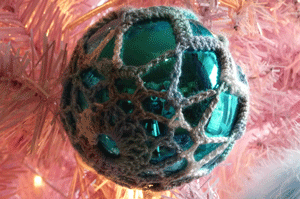 Free Pattern by
Michael Sellick
–
The Crochet Crowd
©2011
The Crochet Crowd
Save