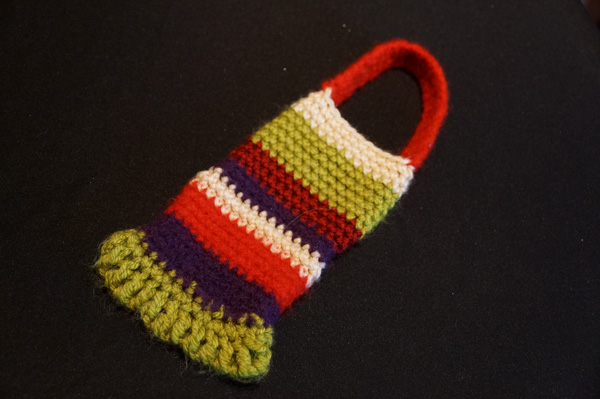 Crochet Felted iPhone Bag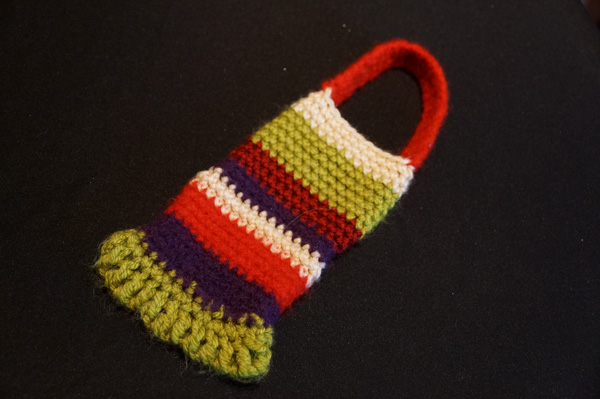 Crochet Felted iPhone Bag Pattern
Need a cute little iPhone Carry Bag? Look no further as I have figured out the math and sizing to create your own. Simply follow the directions and then felt the bag afterwards. 
Materials Needed
Partial Balls of Patons Classic 100% Wool. To Felt you need 100% Wool of any brand of yarn.
Colours Needed are Green, Purpose, Red, White & Burgandy. Changing colours are optional.
Size 6 MM Crochet Hook or Size J Hook
Stitch Marker To Count Rotations
Definitions
CH – Chain, SC – Single Crochet, DC – Double Crochet, SL ST – Slip Stitch, BEG – Beginning, TOG – Together, DEC – Decrease,
Free Pattern:
The colours are subjective to your creativity. You don't need to use all of the colours you see. Change the colours as often as you want.
BODY
Chain 27
SC 2nd CH from the hook and all the way down. Then turn work and SC all the way back on the opposite side of the chain. SL ST at the end. This project has no seams and works in a continuous circle revolution.
CH 1, then SC all the way around and SL ST at the end.
Repeat Step 3 – 25 Times.
Fasten off and weave in ends.
Handle
Place flat and determine one side of the bag. SC 4 Stitches in a Row.
Turn, CH 1 and SC the rest.
Repeat Step 2 – 30 times.
Fasten to the opposite side. Fasten off and weave in ends
To Felt This:
Load bag into washing machine with a pair of old jeans. Jeans provides aggitation to felt up this bag.
Add 2 table spoons of baking soda.
Water must be as hot as possible.
Wash on regular cycle.
Take out of washer wet, shape the bag and lie it flat on a heating register in your house or a place where it can dry.
Disclaimer:
The photo shows some of the yarn not being felted. I thought some of the yarn was 100% Wool. I lost the labels and made an assumption. I learned after completion of the felting process that I had used Acrylic yarns by accident. This pattern still works for felting.
Free Pattern by
Michael Sellick
–
The Crochet Crowd
©2012
The Crochet Crowd