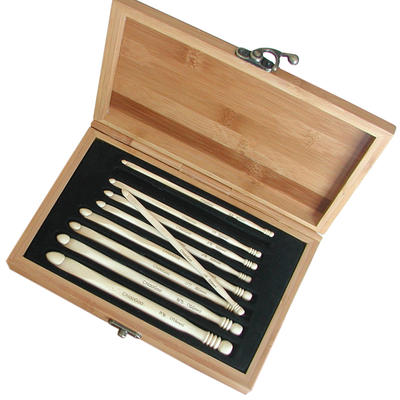 Crochet Gift Set – 9 Hooks
One of the nicest gift sets I have seen on the marketplace is this Bamboo Crochet Gift Set. According to sources, this set is highly popular gift to give away due to the packaging and meaning that has been applied to each on of the crafted crochet hooks.
This isn't just straight bamboo hooks inside. Each one is carved on a lathe with precision. They realize that it's about the comfort of the crocheter and have provided tapered sunken areas on the hook for your thumb and pointer finger to rest on the hook.
What makes this so special is that each crochet hook has been laser edged with a beautiful chinese symbol and english translation that is different on each hook. The size L is beautifully marked with "Bless". The hooks start in size G and go all the way to size P. For metric friends, that is size 4.0mm to 11.5 mm hooks.
Bamboo is extremely light, it absorbs hand sweat so it doesn't make it slippery. It retains your body heat to make for total crochet comfort as you work. This is thee perfect set to give to an avid crocheter or just to treat yourself.
For more crafting tools and materials for a wide variety of crafting areas, why not check out http://www.cutratecrafts.com. 15 – 30% Savings Everyday. Free shipping may be available, see details at http://www.cutratecrafts.com