Crochet Kids Rainbow Scarf + Tutorial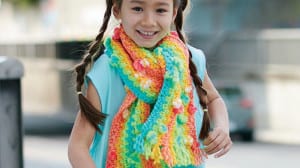 Crochet Rainbow Scarf
The Spinrite Factory Outlet's E-Tent is now clearing out this yarn for $1 per ball. Sold by the bag of 3 balls in a bag. It's only available at this price at the E-Tent. Prices are in USD.
Bernat Zapp Yarn is a Chunky – Weight 6 Yarn. It is obviously thick and has an array of extra puffs added to the yarn so you can have fun with the yarn and final look. The entire colour line is extremely vibrant and geared towards kids or adults who love to the centre of attention.
I have filmed the video tutorial for the girl's scarf in the picture above. It's super easy and I show you how to do it and manage the extra puffs to control them as you crochet.
Video Tutorial Below
There are 8 colours in total, the Out of the Blue Colour is missing from the colour palette below. This yarn is no longer being made and when stock runs out, it's completely finished.
Video Tutorial Below