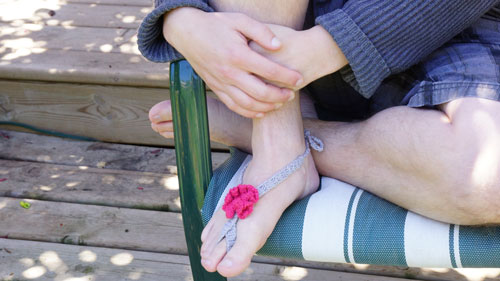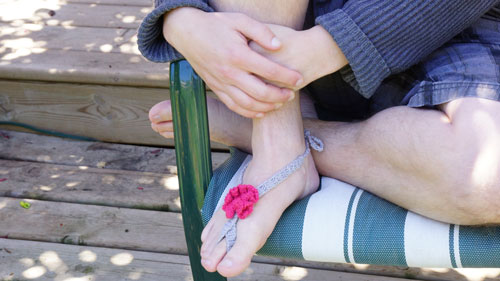 Barefoot Sandals by Mikey
This is a relatively simple design for crochet barefoot sandals using crochet thread. The advantage of the crochet thread is durability and is okay to get wet. The barefoot sandal is designed for a person that wants a bit of flare. It's more meant for women as well, but I am modeling it anyway to give you a perspective on how it looks.
It's called a Barefoot Sandal because from the top view it appears you are wearing sandal.
Sandal Measurements for this design. You can alter the length of the straps. My foot is size 8 which is a size 10 for women. The front section of the sandal is a standard size to fit all adult size feet.
By: Michael Sellick, Copyright, The Crochet Crowd 2012.
Measurements of this finished sample:
Front to back unstretched is 14″.

Strap at toe region is 1/2″ wide.

Strap over the instep is 1/2″ wide.

Strap toward the back of the foot is 1/4″ wide.

Flower diameter is 2″ wide.  
 
Materials List:
Size D or 2.5 mm Crochet Hook

2 balls of crochet thread, one for the main strap colour and second for the flower. You could use Red Heart Fashion Thread or Bernat Handicrafter Crochet Thread.  
 

Special Instructions:
This project is completed in three sections. First is the toe and one side of the strap as one continuous section. Second is the other side of the strap. Final section is the flower on top

.
Abbreviations:
CH = Chain, DC = Double Crochet, SL ST = Slip Stitch, BEG = Beginning, FP = Front Post, 2 SC TOG = 2 Single Crochet's Together to reduce stitches.
 
Sandal Section 1 Instructions:
Starting at the front of the foot. CH 6, SC 2nd from hook and remainder of the line. (Total of 5 Stitches across). Turn. 

Ch 1, SC all the way across and turn. 

Repeat Step 2, 26 Times. Total length is 3″. 

Fold project in half, then flip on one strap 180 degrees. This makes the strap look identical on both side of the toe and comfortable to wear. If you do not flip one strap, the project will try to untwist itself when wearing and will be uncomfortable an unfashionable.

CH 1 and SC the BEG row and the new row at the same time to make the project permanently joined with a nice clean finish. Turn

Repeat step 2, 3 more times.

Turn, CH 1, place 2 SC into the 1st stitch, 1 SC into each along the row. Last stitch on row gets 2 SC's. This will cause the row to grow out on an angle.

Repeat step 7 – 6 more times. Turn.

CH 3, 1 DC into the next 3 stitches. Turn.

Repeat step 9, 10 more times. Turn.

SL ST 1st st, CH 3, 1 DC into next. Turn.

Repeat Step 11 – 24 Times.

Fasten Off and carefully weave in tail.
Section 2, Strap Other Side:
Fasten on the opposite side. Repeat steps 9 – 13 as mentioned directly above.
Flower Applique: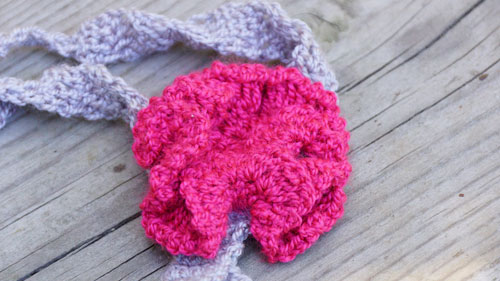 CH 4 and join SL ST to form ring.

CH 3, DC 11 into the ring. Join SL ST to the top of the BEG CH.

CH 3, place 3 DC into each ST all the way around. Join SL ST to the top of the BEG CH.

Repeat step 3.

Fasten off and weave in tail.
Sew Flower using same colour of flower to the top of the barefoot sandal. Ensure before sewing that you have decided which side is up. I did mine so that the beginning row of the project is on the underside.
Good Luck and Enjoy Your New Sandals.