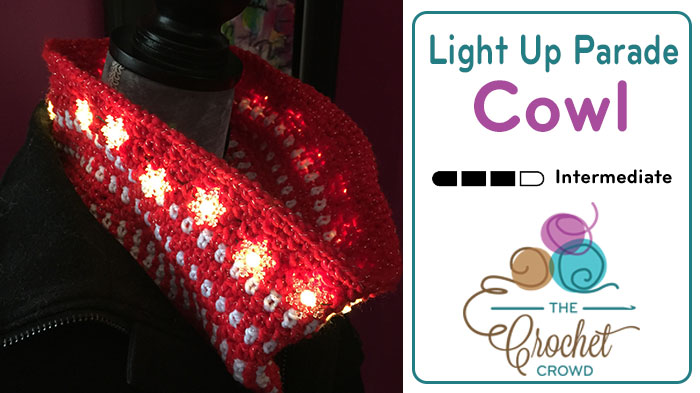 Crochet Snowflake Light Up Parade Cowl + Tutorial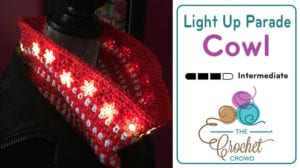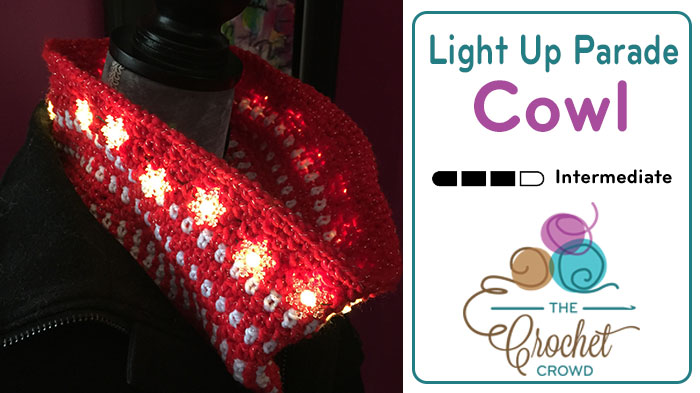 Crochet Snowflake Light Up Parade Cowl
The Crochet Snowflake Light Up Parade Cowl is a simple cowl using the moss or granite stitch in the round. Featuring the concept of carrying yarn behind the cowl so you don't have to trim yarns each time you change the yarn colour. It's using Bernat Happy Holidays Yarn that has softness and sparkle to the yarn for that extra attention you may want in your cowl.
The cowl is 13″ Diameter x 6″ High.
The lights added can circle the entire cowl 1 3/4 times.
Lights
The lights are from Michaels Stores, you can search any store that offers these small LED Lights that have a battery pack. You are looking for packages that are small and are about 8 feet to 9 feet in wire inside the package.
Michaels has assorted lights from multi-colour to specific shapes such as Santa Claus, Rudolf, Snowflakes or more. This cowl is just using the Big Dot LED version.
The trick to doing this is to strategy place the wire into the project so the wire is permanently buried into the stitch work. The wire, being buried, shouldn't be abrasive against your skin. You will need to crochet a battery to hold the extra wire and battery package. This pouch should be placed strategically behind your neck when wearing it so it's out of view.
Using rechargeable batteries with this concept is your best friend. You can enjoy without worry of continuously buying batteries.
Instructions
Materials
2 Balls of Bernat Happy Holidays Yarn. 1 Ball is Red and the other is White.
1 Package of LED Lights as mentioned above. Test lights before applying to this project as the lights are permanent in this project. 
5 mm, Size H Hook
Tapestry Needle
Pattern
Using red, ch 110, careful not to twist chain and slip stitch to beg ch to form ring.
Ch 1, 1 sc in each chain around. Join with sl st to beg ch.
Ch 1, 1 sc in same stitch, ch 1, * skip 1 st, sc in next, ch 1. Repeat * around. Drop red and let rest inside cowl. Join with slip stitch USING WHITE to finish off this round.
 Slip stitch to next ch-1 space. Ch 1, sc in same space. Ch 1, * skip 1 st, sc in next, ch 1. Repeat around. Drop white, join with slip stitch using RED.
Repeat Step 3 using White.
Repeat 3 using Red for 3 rounds.
Repeat Step 3 using White.
Repeat Step 3 using Red.
Repeat Steps 6 & 7, 2 more times.
Repeat Step 5.
Repeat Steps 6 & 7.
Repeat Step 3 using red, insert wires with bulbs using the technique shown in the below tutorial. Be mindful to where to let the bulb peak out.
Repeat Step 11, continuing with remaining wire. Stagger the lights to appear in between the other lights in the previous row. You will notice in the close up photo that the lights on the right and left appear higher as they are positioned in between the lights shown in the row below it. It will not go all the way around on this round.
Repeat Step 7, 3 times.
Sl st to next ch-1 space. 1 sc in each stitch and ch-1 space. Fasten off and weave in ends.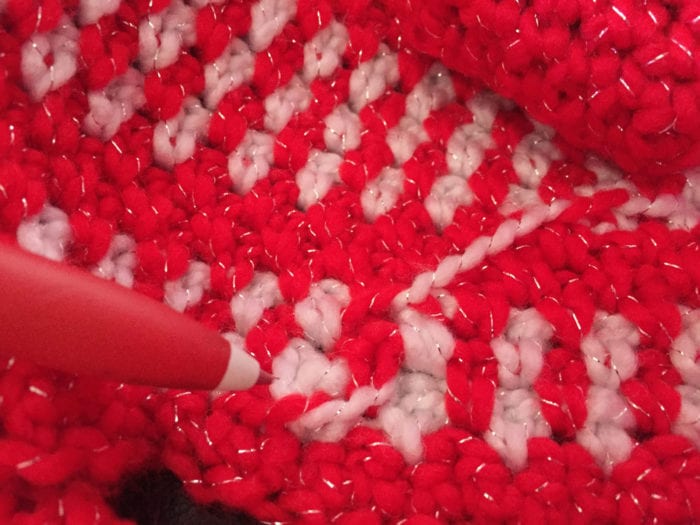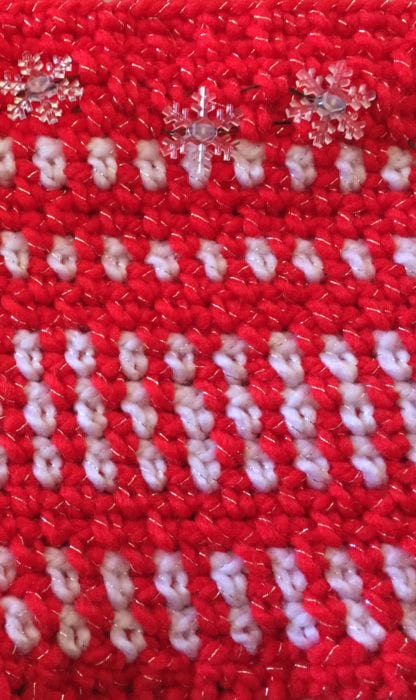 Pocket to Hold Battery Pack
The package of lights comes with a box that holds the batteries. This box needs to be hidden inside the cowl in a position that is not obvious or seen. I would suggest tucking it into the back of the cowl. Using the lights position.
The pocket is formed by circling the starting chain in a continuous revolution.
Ch 8
Sc 2nd chain from hook across chain. Last chain, place 3 sc. Continue to turn the chain upside down and crochet along the other side of the chain, 1 sc in each, last chain to receive 2 sc. Do not join with beg sc.
Sc in each stitch around in a continuous revolution without slip stitching.
Make the pocket about 2.5 – 2.75″ deep. Insert the holder inside the pocket to set. You want to have access to the off and off switch.
Once you are satisfied, sc the pocket directly to the inside of the cowl to posts using the same colour so that it doesn't appear to be there from the outside. Only sc across one side so pocket remains open. Fasten off and weave in ends.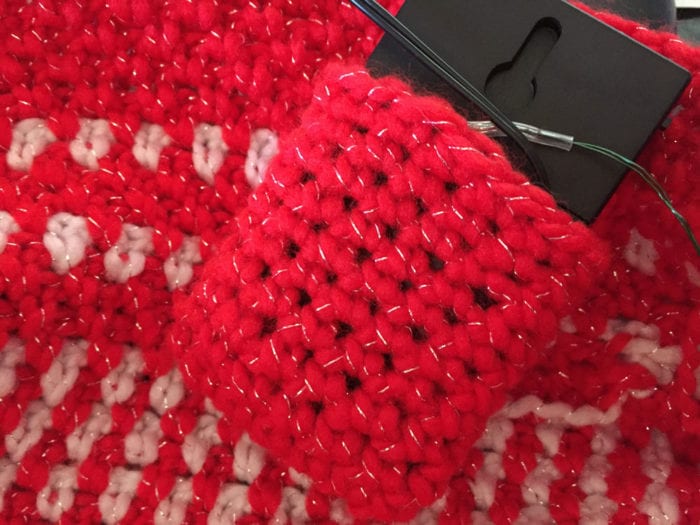 Final Touch Ups
Insert the battery pack and coil the remaining wires leading to the first bulb in a circle and tuck into the pocket.
Tutorial
How to Crochet Around Wires