Crystalites Crochet Case With Hooks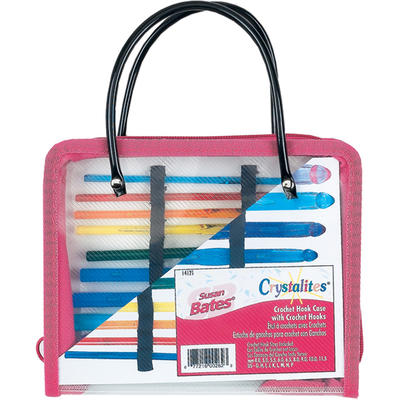 Crystalites Crochet Hook Case – Includes Hooks
Susan Bates Crystalites Crochet Hook Case with Crochet Hooks come in this sturdy hard plastic case with handles. You can see through the bag for your own convenience to locate easily what you are looking for. The hooks are plastic and a wide variety of different colours. In some of them you can see the air bubbles of the molded plastic which creates a sense of depth to each hook.
In metric dimensions, the hooks range from 4.0 mm all the way to 11.5 mm. In imperial sizes they go from G all the way to P.
The carry cased is sealed by a zipper and there is room inside this packaging to add more things like scissors, measuring tape, stitch markers, pens, pad of paper or anything you need to be successful. Keep all of your hooks in one spot with this little kit.
For more crafting tools and materials for a wide variety of crafting areas, why not check out http://www.cutratecrafts.com. 15 – 30% Savings Everyday. Free shipping may be available, see details at http://www.cutratecrafts.com.