11 Easter Basket and Home Decor Egg & Chick Ideas
Easter Question: Which Came First, the Chick or the Egg?
I just love the anticipation of Spring as Easter approaches. It brings so many fun crochet projects with happy colors.  I want to crochet a few chicks and eggs for my granddaughters' Easter Baskets.  The custom of giving eggs and chicks celebrates new life.  Here are some really fun patterns that I found if you want to join me crocheting some Spring decorations.
So which do you do first, the chick or the egg?
Amigurumi Hatching Easter Chicks – cute chick coming out of a half egg shell.
Chick Egg Cozy – can be used to cover your eggs or stuffed for a toy, either way.
Easter Appliques – besides a chick and an egg, you will also find a lamb and bunny.
Happy Easter – beautiful wreath of colorful eggs to brighten your door and welcome your holiday guests.
Easter Eggs & Baby Chicks – this set it so sweet and colorful.
Little Chirpy Chick – ok, these are the cutest I'm found!  You'll want to make a dozen of them.
Spring Chick Applique Pattern – great decoration for hats or use as a fridgie magnet.
Spring Chick Hat – This pattern doesn't specify a size, but use the Hat Guide to adjust it as needed.
Chevron Egg – these really look like dyed Easter eggs.
Cream Egg – a no-calorie version of the Cadbury Egg. 😉
Crochet-Covered Easter Eggs – these a so delicate and lacy, just like a doily wrapped around an egg.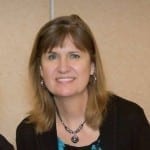 Be creative! 🙂 – Jeanne – The Crochet Crowd