Embellish-Knit Automatic Knitting Tool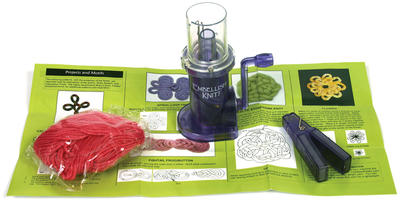 Embellish-Knit! Machine Kit
It's not just knitting, it's automatic spool knitting. Back in the day, we would hold a spool with some nails and patiently work our way around the spool creating long snake like knitting. Myself, I created a 40 foot snake once when I was 10 years old. I wasn't thinking about yarn weight or colours. It was the most random thing ever, but I was so proud.
Moving ahead to the future, the knitting kits are now automatic with Embellish-Knit. Why did I like this one over other ones that I have seen. Quality is one and I could tell just by looking at the packaging. If you are to see knitting machines for socks or nylons, you would notice the knitting needles (rug hooking like needles) are metal. Many new machines of today for crafters are nearly all plastic. Plastic is flexible but has a risk of breaking. Other knitting machines I have seen on the market place have been disappointing due the plastic components.
Easy to use, quick to make a project, and a detailed instructional guide is provided inside. Make something for your curtains, fringing, braiding, handles or even straps.
Fabulous little tool and inexpensive too!
For more crafting tools and materials for a wide variety of crafting areas, why not check out http://www.cutratecrafts.com. 15 – 30% Savings Everyday. Free shipping may be available, see details at http://www.cutratecrafts.com