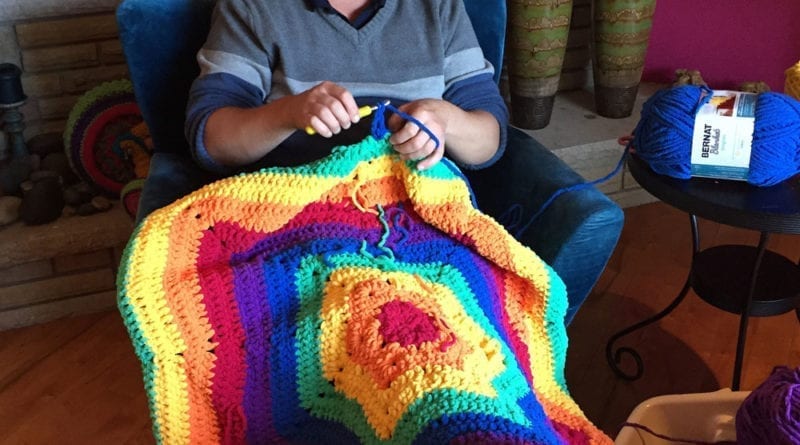 When You Feed the WIP Pile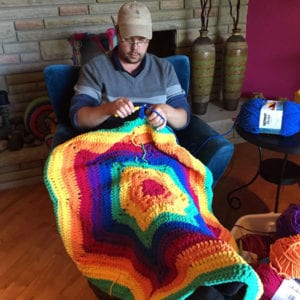 Feeding the WIP Pile
Ever hit the Craft Store like a dog in heat in the yarn aisle? Come on… I ain't the only one.
So many ideas… so little time. Why does life have to get in the way of my crochet! Like seriously, can't the lawn mower push itself? 
Crocheters battle the WIP Pile, let's not deny that. Life gets in the way, you forget or get bored with the current project. You put down your project with the greatest of intentions with plans to come back to your project. It sits lonely in the WIP Pile and for whatever reason, it becomes the ugly duckling and you deny it exists.
I know this feeling, a little too well. For me, I usually have to finish what I started unless I am showing step by step stages where there is never an intention to finish it completely. I might have a valid excuse.
WIPS are Not Just for Crocheters
I remember when I was about 20. I had my first real office job. The office was completely renovated. I had to have a office set of paper organizers and storage containers all made with Plastic Canvas. The urges were strong. It wasn't even a question in my mind whether I should. I got the brainiac idea. Do not pass go, go right to the craft store. I hit the craft store like a dog in heat! Forget the carry basket, Daddy's going to need a push cart!
Man I ramsacked the plastic canvas like it was going out of production. I went to the yarn section, matched the colours to the office decor. I had no idea how I was going to make my organizer. As I planned it on paper, I got more and more complicated. You know how it is. You make a little storage for paper clips, you need a stapler cozy! Before I knew it, I had planned my cubical to be an explosive crafting paradise!
So I got home. Had to explain to the Mrs (at the time), my plan. If looks could kill! Why would you waste your time when you can go to the dollar store. Oh man… just set me on fire why don't you!!! So when you tell me know, I'm going to buckle in and prove her wrong and get my paradise office decor done.
Well… like dogs, the heat wears off! You start working on it… then you feel it's going to take years. You get bored. You are fighting yourself like trying to bite your own face off! You are resisting the urge to make it a WIP. Oh look, another pattern. I'm now on the slippery slope to craftdom as I switch my dreams. You end up with a stock pile of canvas and yarn. Suddenly, it disappears from your living space. Then you forget about it. Then find it years later! Then you have to deny you were in heat at the craft store. You then have to justify to yourself you will eventually finish it… but let's be real. It's like a cookie addict staying out of the cookie jar. You know you are lying to yourself…. Go ahead though… we all do it.
Suddenly, you are printing another pattern and starting something new. Then you go grocery shopping, pass by the yarn store just to check what's new. Oh look, new colours. Let me just get a few "JUST IN CASE"…. A few turns into a whack. Then suddenly, you are leaving the store with new plans, desires and you will start yet something new.
So then you need to turn yourself into a self guilt machine. You mentally beat yourself up as you are feeding the WIP Pile. What's one more project… ah what the hell, here's another.
Before you know it… you think about how many projects you have actually finished! I know right… Reality Check comes screeching in like a bat swooping… Don't worry though, I know how to duck swooping bats! Deny Deny Deny… Oh look, YARN!
I've been knowing to feed by WIP Pile but I will gladly deny it if you ask me directly. What WIP Pile, I always finish what I start! Oh man… one way ticket to the land of fire for lying! Well, if I am going there anyway… can I get some yarn and a hook to go? Oh yeah, let me take a computer with online patterns and potentially online ordering… just as a precaution, of course.
If you have a WIP Pile… welcome to the club. If you deny you have one… that's okay, we let observers into the club. (Wink Wink) We know you are there for "A FRIEND".