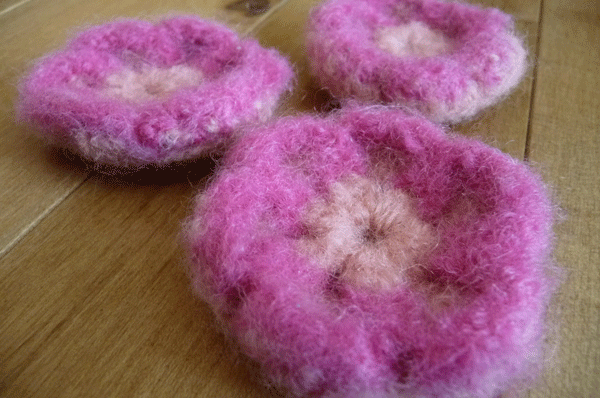 Crochet Felted Flower Pattern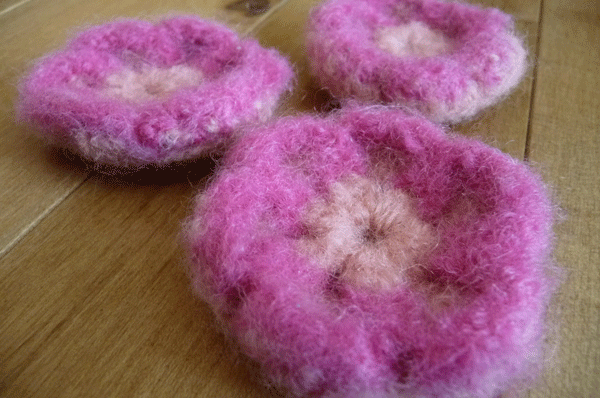 Felted Flower Pattern
Crochet easy felted flowers to accessorize your finished projects.

Needed Materials
Size 6.5 mm or K Size Crochet Hook
Felting Yarn you must use 100% Wool to achieve the felting process. 
Definitions
BEG = Beginning, CH = Chain, SL ST = Slip Stitch, SC = Single Crochet, DC = Double Crochet, TR = Triple Crochet, 
Instructions
Using black, create slip knot and chain 4. SL ST to the BEG CH to form ring.  

CH 3 and DC 11 Times around the ring. SL ST to the top of the BEG CH. 

*CH 2 and DC 4 Times into the next Stitch. CH 2 and SC into the next stitch. Repeat from *. On the last petal, SL ST to the base of the BEG CH. 

Fasten off colour and weave in ends.  

Fasten on new colour around the CH 2 *Gap and SC then SC into each of the top of the 4 DC stitches, 1 SC into the CH 2 gap. SC around the two posts in step 2 that are directly below. Repeat from * all the way around. At the end SL ST to the fastening on at the beginning to ensure colour has gone all the way around. 

Fasten off and weave in ends.
Felting Instructions:
Throw flowers into washer with an old pair of jeans. Add 1 Table Spoon of Detergent or Baking Soda. Wash at maximum hot and Cold Rinse.

Pull flowers out and shape them. Set in an area to dry. I'm not telling you to do this but what I do to dry them faster is put them on top of a furnace register on the floor so the heat of the house will blow through the flower and dry it quicker.

Expect flower to shrink more when drying.