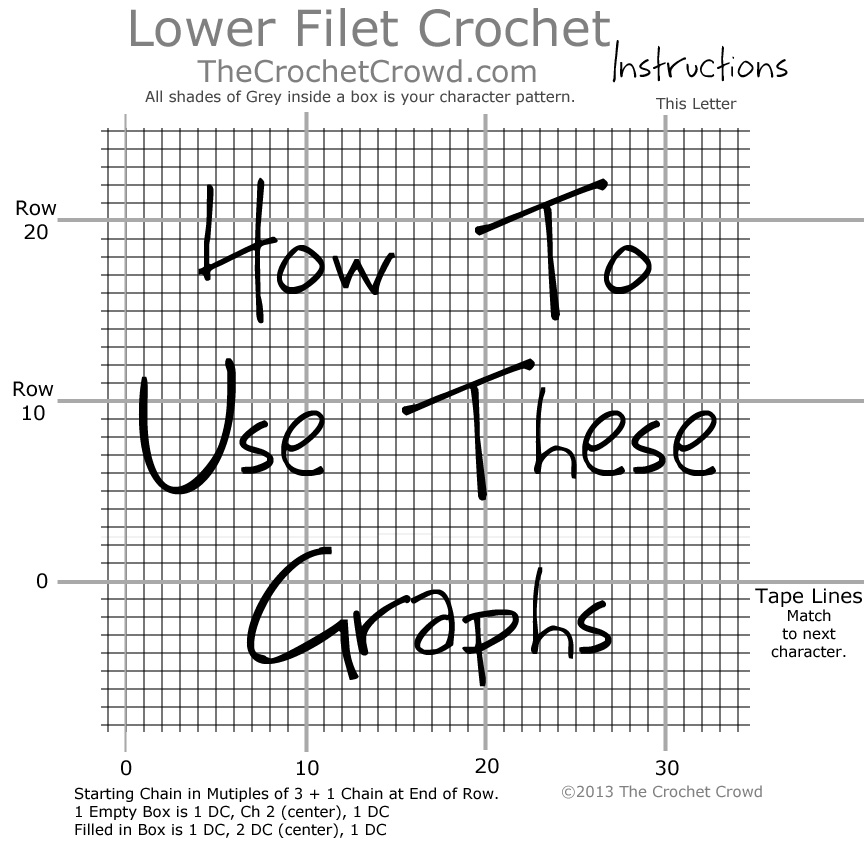 How To Use Filet Graph Charts
How To Use Mikey's Filet Crochet Graphs
There are several ways to use these graphs. I originally was thinking only File Crochet but then I realized these graphs can be utilized in more ways. I will talk about different ways you can use these. 
Using My Graphs
The graphs can be used for many different purposes. I have all of the letters in both capitals and lower case available. I went ahead and did the numbers and a few symbols to compliment this entire font series. 
Instructions
To spell a name, you will print off the graphs that you want. 

Using the tape line, each letter has been matched to this line. This will allow you to spell out words and they will stay even in your project. 

You can also use the same lines across to align your letters in different ways. Maybe you might want your letters to be up higher and lower in areas. Just match the graph lines to follow it across. 

You can push the words together and cut around the letters so they can slide into each other. This will provide a nice unique look instead of being obvious that there is uniform spacing. 

Where the pixelated box appears is your letters. Use any boxes that are not white.

You can make the letter / number thicker by using a pen to fill in the the empty boxes surrounding them. 

You can add more details to the letters or even squiggles or shapes around the letters to give a more fancier look. 

Where the letter exists, you change your yarn if you want the number to be a different colour. For Filet Crochet, you will fill in the square. See video below for more details. 

When you complete a line, use a highlighter to fill in the boxes so you don't get lost in the pattern to where you are. 
Filet Crochet
– Video Instructions Below
Filet Crochet is the art of crocheting and leaving gaps or spaces in your work. You fill in the spaces by crocheting inside the gaps as you go along. You follow the graphs. You will notice the instructions at the bottom of each graph. Those are for doing Filet Crochet.
Essentially in the boxes where there is nothing, there will be empty space. You will need to count your boxes and figure out your stitches accordingly.

You don't usually change your colour of yarn when doing filet crochet. The idea is that your pattern is filling in gap spaces to be a nice interesting elequent look. 

Using a highlighter, fill in the rows of boxes as you crochet so you don't lose your way in the pattern. 
IMPORTANT – VIDEO DIFFERENCE
There is a video difference, the video shows chaining 3 and/or 3 DC in the spaces where the letters appear. For these graphs, there is only Chaining 2 and 2 DC in the spaces where there the letters will appear. This will make the project more square and balanced. 
Single Crochet
You can also use the graph to do single crochet where each box is a single crochet stitch. Each box in the vertical direction is a row.
Instructions
Each graph square is a total of 9″ across by 9″ high using a Size 5.5 or Size H. 

Each box equals 1 stitch. Count the boxes across to figure out the chains you will need to make your word. 

Change your colour where you want the letter or number to appear. 

You can also bold up your letter by taking a pen and filling in the empty boxes around the letter to help you follow the directions better. 

Using a highlighter, fill in the boxes as you crochet each line to ensure you don't get lost within your instructions. 
Latch Hooking
You can also use my graphs for the art of latch hooking. 
Instructions
Using my graph, each box is a box within your latch hook canvas.
You can figure out how many boxes you need your original canvas to be to fill in the canvas with your work.
Just follow each box as you go along. Use a highlighter to fill in the finished boxes to ensure you don't mix anything.
Needle Point / Cross Stitch
Use my graphs as is to spell out words or numbers within your needle point project. You can use these graphs for plastic canvas or open weave canvas.
Simply spell out the words you need and position them the way you want to appear on the canvas.

Count the boxes to figure out the size of canvas you will need.

You can add more detail to the empty space around the letters and change your yarn colour accordingly.

Cross stitch as normal to form the letters. 
How To Filet Crochet Videeo Tutorial
Remember there is a difference in the pattern shown in the video as stated above.