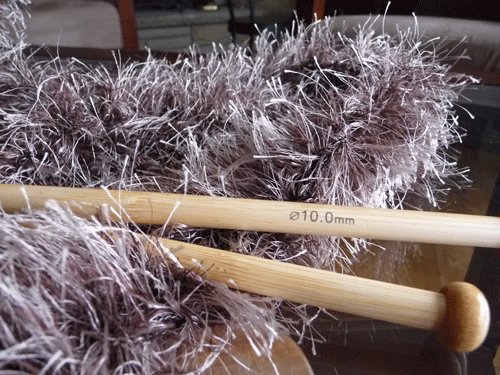 Fun Fur Strap Scarf Pattern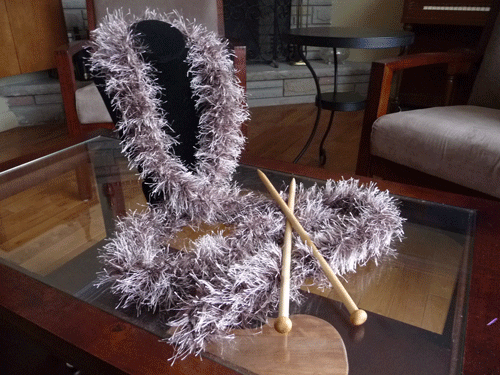 Fun Fur Strap Scarf
A fun little project using the ever popular fun fur type of yarn. Mikey used Moxie Yarn by Patons in order to create this cute little scarf. Very easy pattern as you only need to cast on 7 stitches and knit back and forth. 2 balls of yarn made a 76″ long knitted scarf. 
Free Conventional Knitting Pattern
by Michael Sellick, The Crochet Crowd
©2012 The Crochet Crowd
Distribution of this pattern is appreciated but please copy and post the link. Do not duplicate or charge for the usage of this pattern. You may create your own and sell what you make but this pattern is to remain free. 
Tutorial Filmed shows casting on 6… This pattern calls for 7. 
Needed Materials
Size 10 mm or 15 USA Size Knitting Needles
2 Balls of 100 g or 3.5 oz Fun Fur Yarn. Picture is showing Patons Moxie Yarn. Colouring you see is called Racoon. 
Scarf seen is 2″ Wide Solid, with loose hairs it is visually is 3.5″. It is 76″ Long.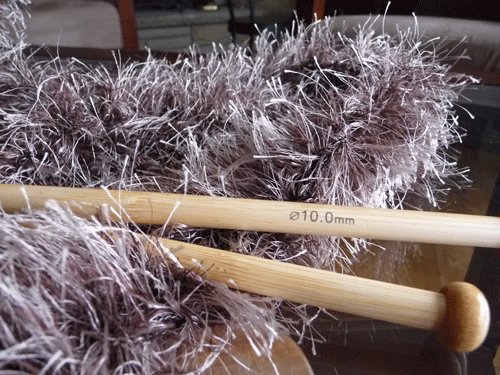 Instructions
Cast on 7 Stitches,

Knit back and forth until you get your desired length. 

My scarf shown here is 76″ long so I can drap it and it falls below my waist OR I can wrap it once around my neck and it still be a decent length. 

Cast Off and weave in the ends.