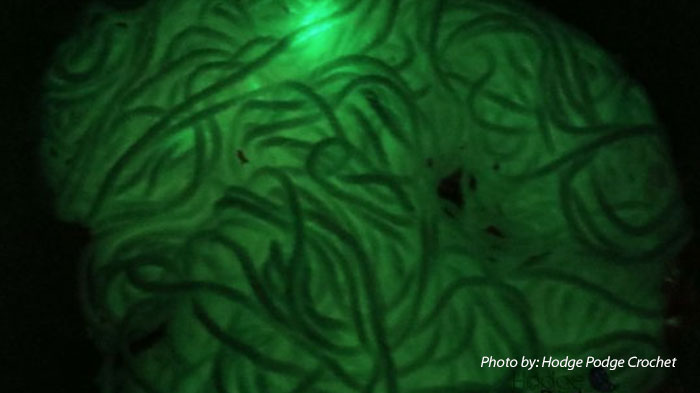 Make your Own Glow in the Dark Yarn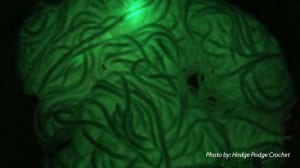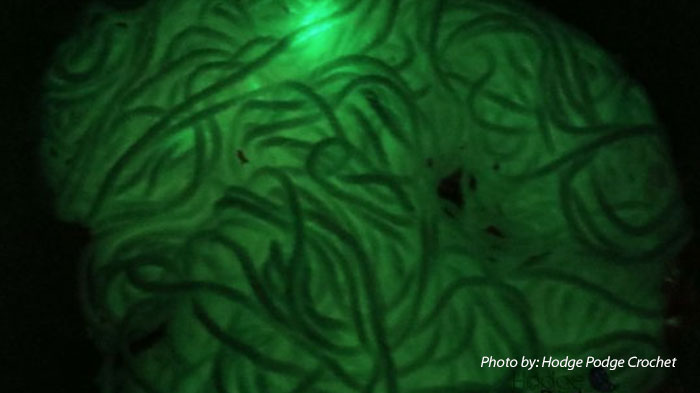 Glow in the Dark Yarn
Crocheters, knitters and crafters sometimes ask for glow in the dark yarn. Some go as far to complain that yarn companies should get on it quickly and make it.
Over the years of being in this industry, I have seen this type yarn come and go and come and go. It depends on the trend and the demand of the product. If I yarn company commits to making a line of yarn, they tend to make hundreds of thousands of balls and it has to be distributed to most of the major stores to make it affordable.
Yarn companies cannot make a yarn that has a loud minority when if they produce it that it sits on the retailers shelf collecting dust. The retailer wouldn't want it on their shelves making it harder to get for consumers and inventory that isn't selling well. It's a major loss for any yarn company when a yarn isn't being accepted or appreciated by the knitters or crocheters. Glow in the dark is one of those yarns that has a risk.
That's the brief summary on how yarn ends up on the store shelves.

What happens when you really want Glow in the Dark Yarn and you cannot find it?
Do you give up on the concept or get creative?
Our friends at Hodge Podge Crochet have a secret formula to make your yarn glow. From first hand experience, I know this works too.
Traditional Home Dying Remedy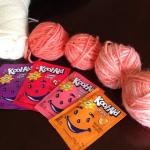 For those unaware, when dying yarn with Kool Aid or any other dying powders or liquids at home, the yarn must be 100% wool for the dye to take properly. I've had a great afternoon with dying my yarn with Kool Aid a few years back and documented how I did it.
See how I prepared my yarn, boiled and made my Kool Aid Dyed Yarn. It actually smells fruity when you are done. Learn how to Dye Yarn with Kool Aid.
You can dye your yarn using food colouring dye at home but the trick is that it needs to be wool for the dye to grab onto. It doesn't work with acrylic yarn.
The method I share will lock in the colour permanently into the yarn.
Hodge Podge Crochet Glow in the Dark Method
Hodge Podge Crochet figured out that Glow in the Dark is basically a reactive pigment that is mixed with the yarn. Like many pigment based yarns and fabrics, they will fade over time with washing and more. If you don't wash it, you will not affect the pigment of the glow in the dark that is being added to it.
Even better, Hodge Podge figured out how to do this with Acrylic Yarns. Most yarns on the store shelves is made of acrylic yarn. This means you can apply the Glow in the Dark pigment to virtually any yarn materials you wish.
As Hodge Podge pointed out, you can apply Glow in the Dark to any colour you wish but warns that the glow in the dark really relies on the base colour of the yarn to be light. You can do a test trial of different yarns you would like to try.
Learn How Hodge Podge Made Glow in the Dark
This is a really neat concept. For those young ones in your life that may be afraid of the dark. You can make bedroom decor to place in their room to allow the project to glow long enough for them to fall asleep.
Have fun making your own yarn.