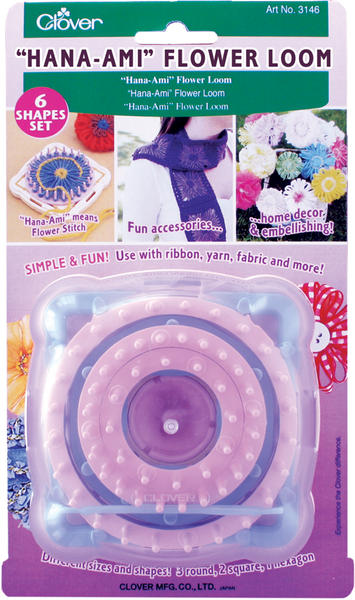 Hana-Ami Flower Loom
What a fabulous little kit that gives you a wide range of possibilities to create flowers. Choose 1 of the 6 provided shape sets that change the outcome of your product. Cool for making home embellishments or décor ideas. Need a fancy topping for a Christmas or Birthday Present, this loom may be for you.
Complete with HowTo Directions on the box, It's simpler than you can imagine. You make circle, hexagon and square designs. Don't limit yourself to just yarn, how about ribbon or something you may find in your yarn stash. Essentially you are limitless in possibilities for how your product can turn out.
When you are done, the kit simply snaps back together and keeps all the looms tucked away under a plastic dome on top to keep it from being crushed or going all over the place. It's a fabulous little kit!
For more crafting tools and materials for a wide variety of crafting areas, why not check out http://www.cutratecrafts.com. 15 – 30% Savings Everyday. Free shipping may be available, see details at http://www.cutratecrafts.com