Happy Hooker Pins: Now Available Online
Happy Hooker Pins
You may have noticed I have started to wear my Happy Hooker Pin since August 2014. It's because it's new and I love them … and now you can have one too!
I got the idea of an official pin while attending a conference. In the professional side of crafting, designers, enthusiastic crafters and more collect these pins and pin them to their badges or lanyards. I thought to myself, The Crochet Crowd needs a pin as well.
I decided to do a generous size pin with our official color. I wanted something bold that commands attention but is classy too! I know, how can Happy Hooker be considered classy! While many people understand that Happy Hooker is a fun little term for us crocheters, I decided not to make it dominant in the pin. I have to say though, when people see the Happy Hooker in the pin, they giggle like a little school girl. It's almost 'knotty!'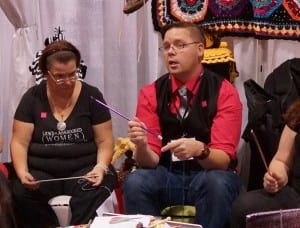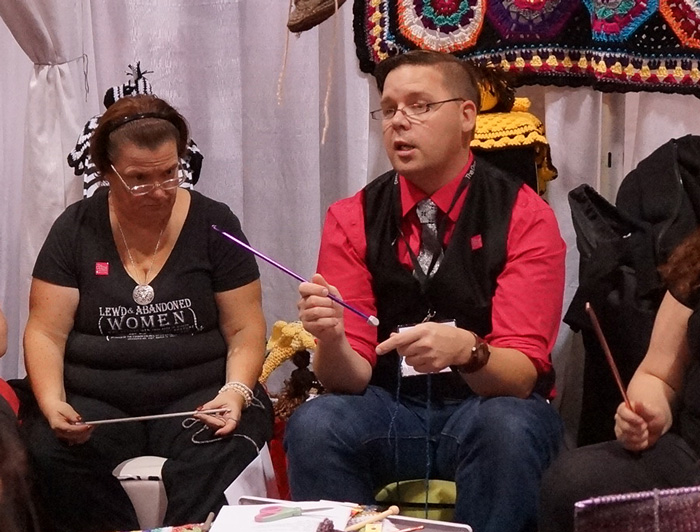 I have a pin that is on the lapel of my winter coat. I also have a pin my denim hat as well. I don't mind showing my love for crochet, even when I am in public but not as my crochet personality. I have a pin on all of my black vests for when I am in public as my personality.
Pin Details
Pins are 1″ square and glazed to protect the logo.
The backs have a sturdy pin with a military clutch to ensure the pin will be secure.
Now Available Online
Spinrite Factory Outlet's E-Tent now has our pins as an option to purchase. You can either purchase the pins on their own but it's more cost effective to throw in some yarn with your purchase to make the shipping worth while.
On Page 1 of the E-Tent
Spinrite Factory Outlet is always providing deals and much more. For the money you are saving, splurging on a pin would be easy. People know that dealing with Spinrite Factory Outlet's E-Tent is safe and secure.
Spinrite Factory Outlet ships to Canada and USA only. Sorry to my fans outside of these two areas. I am not equipped to mail from my home or handle processing orders.