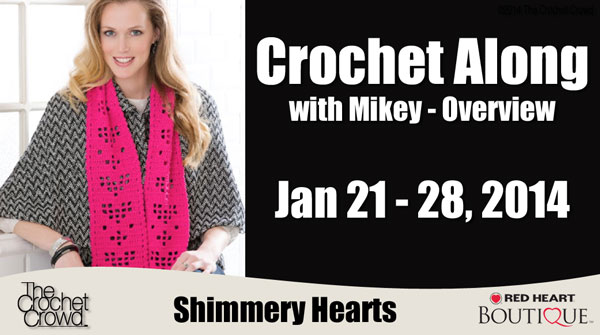 Shimmery Hearts Scarf Pattern
Challenge is over but the pattern and videos are still available for you to use. Stay tuned next time for more free challenges. On the the upper menu, you will see challenges and you go there to see what we are up to. 
Easy filet crochet scarf is perfect for Valentines. It uses the techniques of leaving spaces to create the heart shapes within your scarf. Using the same principles, you can use the same diagram key to create your name or words in your scarf.
Get The Free Patterns, American + UK Version
Get the Free Pattern to Use. Download the Shimmery Hearts Scarf – North American Version. Download the Shimmery Hearts Scarf – UK Version. 
Materials Required
To complete the scarf as seen in the photograph, you will need to a total of 1 colour. You will need only one skein of Red Heart Shimmer to complete. If substituting your yarn, skein counts may vary. Remember, you may substitute yarn, colours, and use as many or little colours as you prefer. See pattern for yarn and hook details.
Video Tutorial, Introduction + American Version + UK Version Tutorials