Summer Time!
The official start of summer is here, and for me I've started using more of my cotton yarns and less of the wool and bulkier yarns in my collection. My favorite cotton to work with is the Lily Sugar'n Cream. I'll hold off on the warm and cozy projects, for now, and kick into high gear on summer projects!
For some, crocheting is a seasonal craft that gets put aside in the summer months. I will admit that while I don't stop all together, hooking in the heat and humidity can be a touch challenging!
With all the fun summer projects out there it's hard to comprehend why anyone would put their hook down…sorry to say my hooks vacation has been denied! I would say resubmit in 30 days but it will just get denied again!
Summer Time Crochet Projects to Keep Your Hooks Happy
Hooking some Cotton with Frogging Along!
Stroll on the beach with this fun Summer Stroll Cinch Pouch
Sport your water bottle in style with this fun Water Bottle Cozy
Here's a great way to keep your soap nearby while you are camping. Whip up some of these Soap Savers and tie your soap right next to your hand washing station, or hang to dry for use between showers.
Have a fun gift on hand for all June bridal showers with these Dishcloth Britches!
Don't miss this great Cosmetic Bag by Mikey!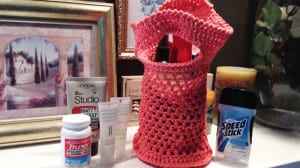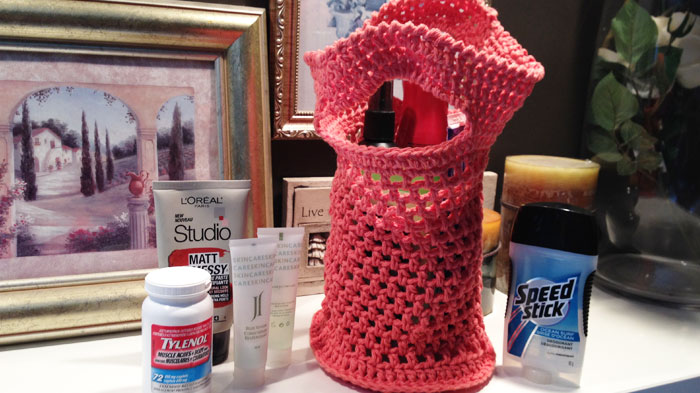 Fancy up those Flip Flops, patterns from Yarnspiration!
Flip Flops with Daisies, Glammed Up Camp Flip Flops, Funny Flip Flops
So…do you hook in the heat?
Your options for summertime crocheting are endless!  Do you have a favorite summer pattern? Do you make summer projects, or are you one of the organized hookers who use the summer hours to stockpile for craft shows?We'd love to hear about it!
Sheri Goad – Hooked on Ewe! The Crochet Crowd Guest Blogger. Come on over and visit me at Frogging Along.