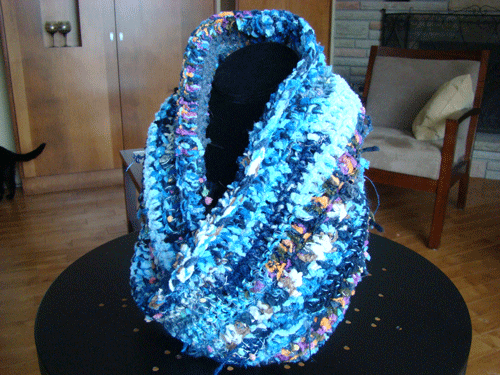 Scrap Scarf Infinity Collar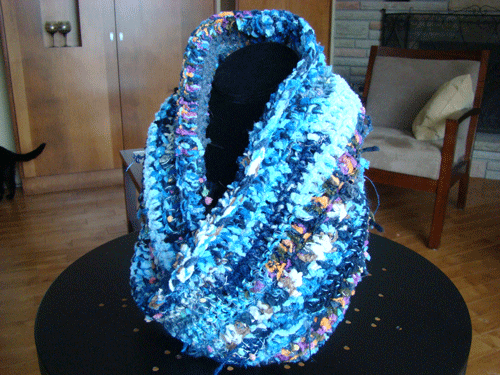 Scrap Scarf Infinity Collar
Create this infinity collar by using scrap yarn. Mikey cheated a bit and used Bernat's Jessie yarn. Jessie Yarn has since come off the market. Go through your scrap yarn and mix up the colours and textures to create your own fun interpretation.
by
Michael Sellick
,
The Crochet Crowd
©2012
The Crochet Crowd
Distribution of this pattern is appreciated but please copy and post the link. Do not duplicate or charge for the usage of this pattern. You may create your own and sell what you make but this pattern is to remain free. 
This pattern is meant to push creative boundaries by using what appears to be scrap yarn. Scrap yarn projects work if the colours flow. In this case I cheated a bit as I indicate below. This is meant for a person who likes to stand out from the crowd and claim creativity verses a person who loves everything to match perfectly. It's a hit or miss project, but is creative nevertheless.
Needed Materials
Size 6.0 mm or I Size Crochet Hook
1 Skien of Jessie Bernat Yarn. Jessie is a mix of precut yarn bunched into one packaging. The colour matches either other so provide a scrap look. It's cheating but it works. If you are using this yarn package by Bernat, you will use the entire thing and it will create the measurements you get.
For those who don't wish to buy this yarn. You can use your own scraps and cut lengths of 8 feet to use within this project. Cut as you go or cut enough to go the measurements of the finished size.
This project will measure 10″ in Diameter & 7-8″ wide.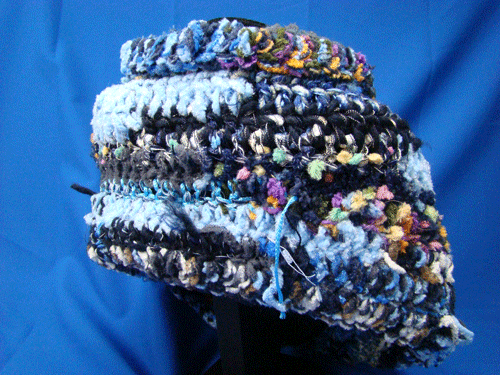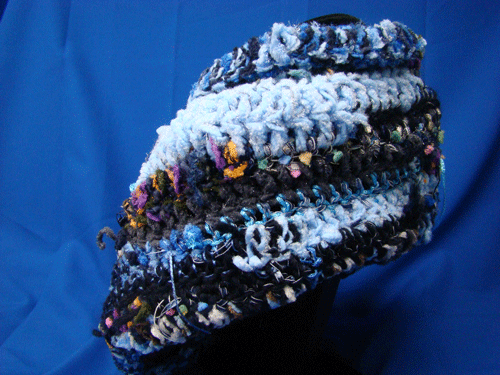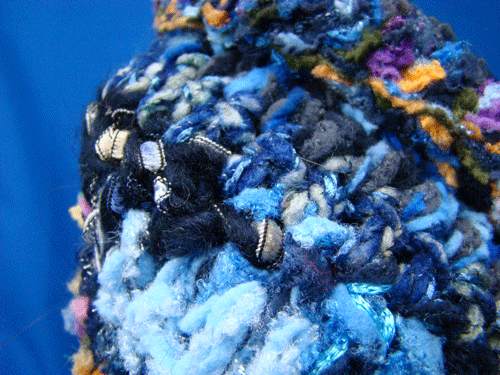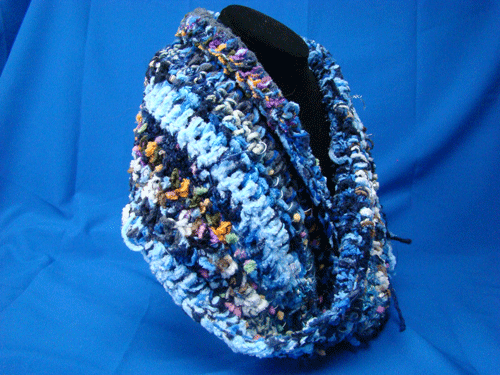 Definitions
BEG = Beginning, CH = Chain, HDC = Half Double Crochet, ST – Stitch, SL ST = Slip Stitch, SC = Single Crochet, DC = Double Crochet, TR = Triple Crochet, 
Instructions
Chain 80, at the end ensure the chain isn't twisted up and attach to the BEG CH with a SL ST. DO NOT TURN.

Continue in the same direction, 1st stitch will be SC, 2nd will be HDC, then DC all the way back to the BEG CH. 

Turn the work so it has a permanent 180 degree twist. You will begin to DC on the bottom side of the stitching. You will not see any stitches, just DC into the gap space. You will crochet continuously now around and around until you run out of yarn.

On the final 9 stitches, leave 3 feet of yarn. 3 HDC, then 3 SC, and THEN 3 SL ST.

Fasten Off and weave in the ends.