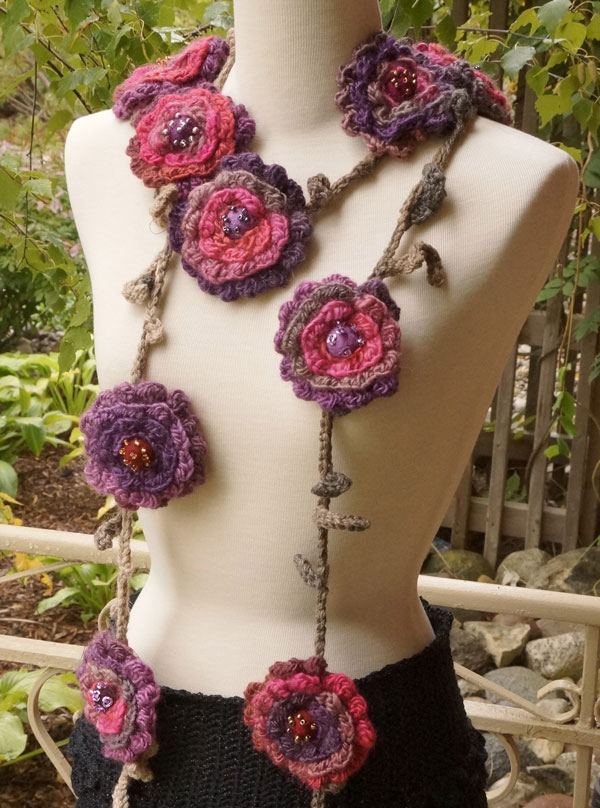 One to the biggest hot buttons between Diva Dan and I is deciphering when a project is done. It really gets on my nerves that he has an ability to push a project from great to extraordinary through adding a few minor things that were added.
If you ever notice on Facebook and Pinterest that people who tend to be shared the most are the ones that go that extra step.
If you click read more, I will show you an up close view of this flower scarf by Diva Dan and talk about more ideas for embellishing your crochet.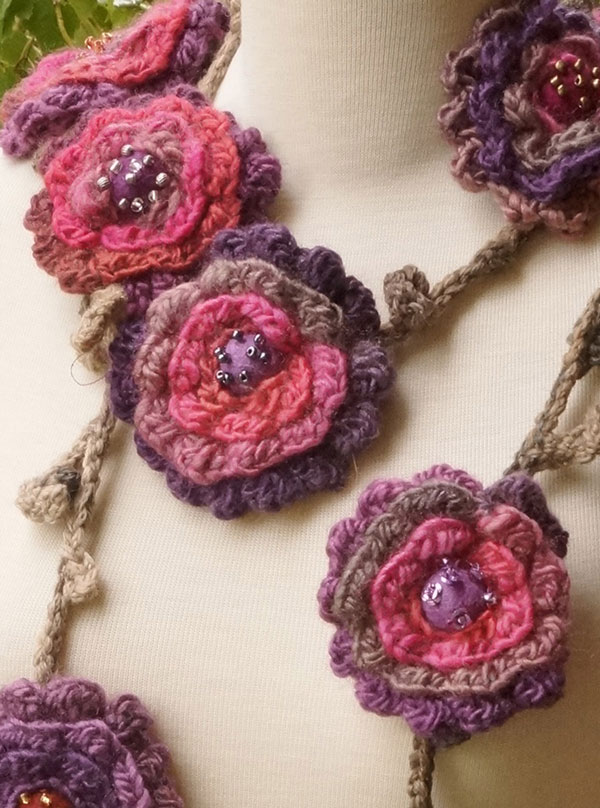 Daniel took an ordinary flower and decided to create some extra features that are on the flower that are not part of the original design. To push this design over the top, he decided to sew a felted ball to the centre of the flowers. He then sewed seed beads to the felted ball.
This scarf went on exhibit at Creativ Festival in October 2012 and women were freaking over the idea. A very small, yet visually stimulating, idea that pushed this scarf from being neat to "I must have the pattern!"
Like any couple, you always have that difference of opinion and opposition on something. Daniel has a gift that I am extremely jealous over. He can go out to the backyard and pick flowers to make a bouquet for our dining room table. I could go back to the garden and try my best but it would never be over the top. He chooses ideas and things that just don't naturally occur to me. I'm extremely envious.
So Why Is This A Hot Word This Week?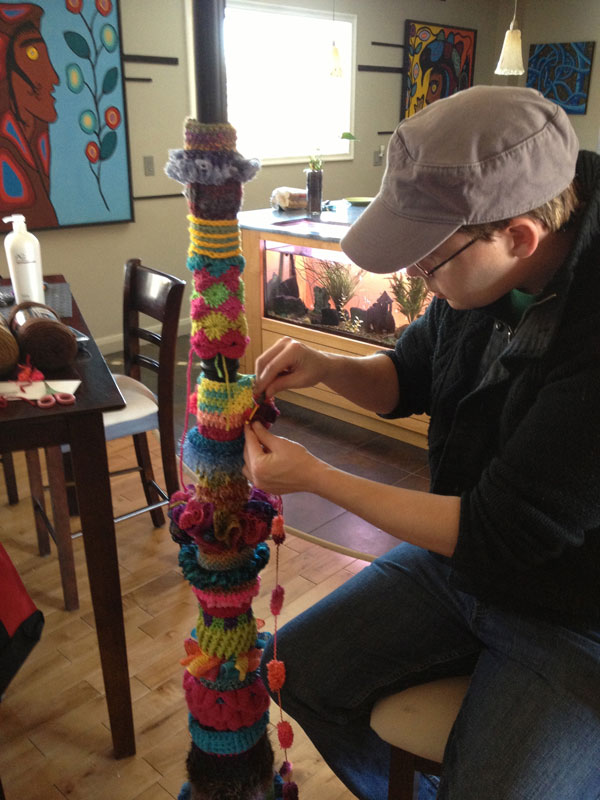 I am working on giving our Hooker Alley Lamp Post a completely new covering. Essentially I am yarn bombing it. Daniel challenged me to think of the stitches I know and use as many different variations on the lamp post.
I believe without knowing Daniel my lamp post would have been probably 1 colour and just double crocheted or something really simple. Many people post pictures and ideas on our Facebook looking for permission. I think Daniel's challenge to me was almost a 'Hall Pass' to reach within myself and pull out colours and ideas without worry of listening to my conscious saying to me "It's stupid, quit while you are ahead!". Through this, I have unleashed some amazing ideas.
I have created some coverings and then thought, it's missing that element that says it's incredible. So I have gone back over the top with something else to push it up a notch.
I have to say, this self permission that I have granted myself through Daniel's encouragement has made me feel really good on the inside. I find myself being extremely picky and I have gone as far to remove something when I feel I didn't push myself over the edge. I want every aspect of this pole to be 'eye candy'. Though it will be on public exhibition at Creativ Festival coming up, the only person I am trying to please is myself instead of worrying about a guest coming along and telling me I should have played it safe with just a few colours and that it should have had a predictable pattern.
Crochet is exciting and I intend to keep it that way through exploring what's inside of myself. You can also achieve this as well.