Magic Knitted Scarf Pattern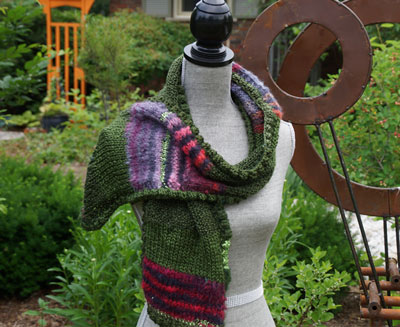 Incredible Magic Scarf
Mikey's new scarf incorporates the best of both worlds… that's right! It has both conventional knitting with needles and crochet incorporated into the project.
With Red Heart Magical Yarn, you can be lazy with the designs as the scarf you see is natural to the yarn ball. The yarn ball changes colour and textures on it's own. No cut strings or even a lot of brain power behind getting the really neat look of what you see.
The designers of the yarn have done the hard work of trying to get the colour combo to work together. I absolutely love the choices of this yarn ball itself.
Materials Required
Knitting Needles, Size 5 mm, UK Size 6 and US Size 8
Crochet Hook 5.0 mm, or Size H
1 Ball of Red Heart Boutique Magical. Colour used is called Wizard
1 Ball of Red Heart Boutique Changes. Colour used for border is called Jade.
Scarf Size is 52″ Long by 9″ Wide.
Delicious Yarn by Red Heart Boutique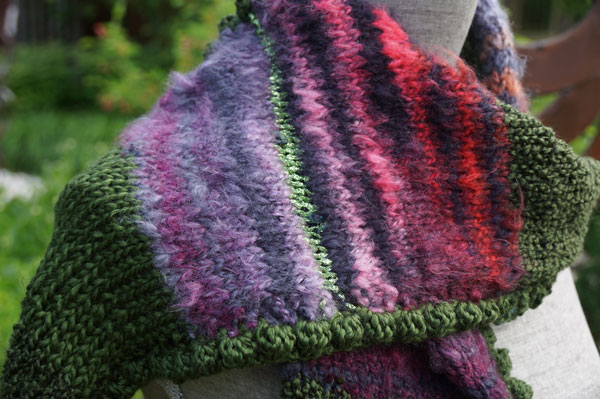 Free Pattern
Using Red Heart Boutique Magical, cast on 26 Stitches onto your knitting needles.
Knit all the way across. Turn.
Knit 1st 2 stitches, then pearl to the final 2 stitches, last two stitches, knit.
Repeat Step 2 & 3 for the duration of the yarn ball.
Cast off when yarn is finished up.
Border
Cluster: Yarn over and insert your hook into the stitch. Yarn over and pull loop through. (there will be two loops on the hook). *Yarn over and into the same stitch below, yarn over and pull through loop. (3 loops on hook now). Repeat * 2 more times. You will have a total of 5 loops on your hook. Yarn Over and pull through all 5 loops. See Video below for a demo.
Turn the scarf so you are looking at the back side. We are going to be putting 4 Double Crochet Clusters all the way around. Clusters always have a good side and bad side. If your scarf is turned so you are looking at the good side, the clusters will not be attractive as the puffy look will be on the backside of the scarf.
Fasten at any corner. Ch 2, Cluster into the same fasten on stitch. Then Ch 1. Skip stitch on edge. *Cluster into the next stitch, Ch 1. Repeat * all the way across. On the corners, cluster on the corner, ch 2, cluster in the same. Use the knit stitches along the top and bottom of the scarf for your stitches. For the sides of the scarf, each row is a stitch. Essentially on the sides with each row being a stitch, when you skip a stitch, you are actually skipping a row.
How to Crochet the Cluster Stitch
Video to show Cluster Stitch starts at the 5:45 Minute Mark in the video below. I call it a puff stitch in the video but it's a cluster stitch.