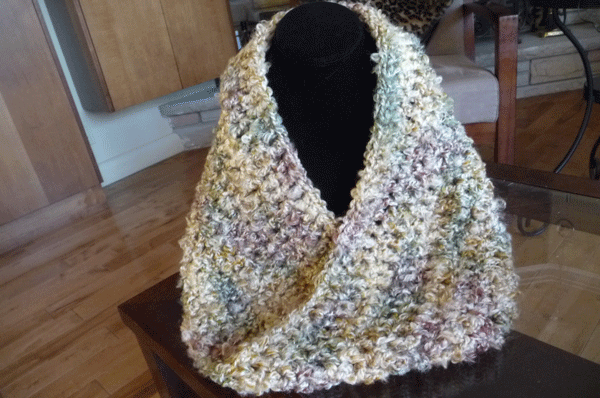 One Hour Mobius / Infinity Scarf or Cowl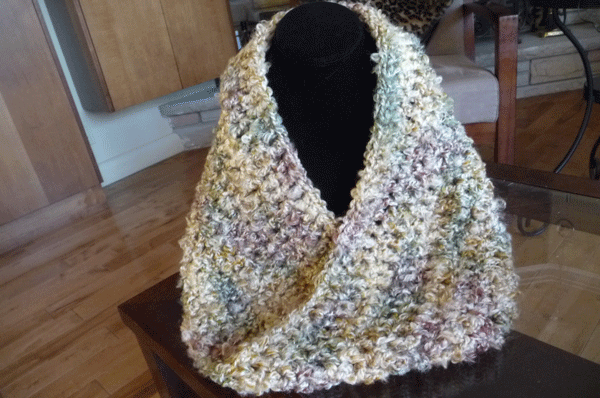 One Hour Mobius Scarf or Cowl
Crochet a pheasant mobius scarf project. These are fun and simple.
Needed Materials
Size 10 mm or N Size Crochet Hook
1 Ball Only of Red Heart Light & Lofty – colour used was called Pheasant. The pheasant colouring looks so much nicer in person than it does in pictures. It's one of those you have to see. I can see doing an entire afghan with this. It would crochet up quick! 
This project will measure 30″ in Diameter & 8″ wide. It seriously takes about 1 hour to make. For less than $6 you have a fabulous gift for a friend.
Definitions
BEG = Beginning, CH = Chain, HDC = Half Double Crochet, ST – Stitch, SL ST = Slip Stitch, SC = Single Crochet, DC = Double Crochet, TR = Triple Crochet, 
Instructions
Chain 55, at the end ensure the chain isn't twisted up and attach to the BEG CH with a SL ST. DO NOT TURN.

Continue in the same direction, 1st stitch will be SC, 2nd will be HDC, then DC all the way back to the BEG CH. 

Turn the work so it has a permanent 180 degree twist. You will begin to DC on the bottom side of the stitching. You will not see any stitches, just DC into the gap space. You will crochet continuously now around and around until you run out of yarn.

On the final 9 stitches, leave 3 feet of yarn. 3 HDC, then 3 SC, and THEN 3 SL ST. 

Fasten Off and weave in the ends.