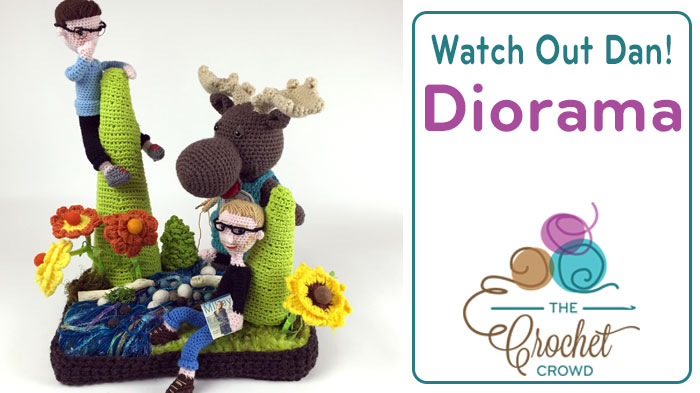 Moose on the Loose Crochet Diorama: Yarn Artistry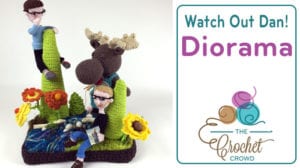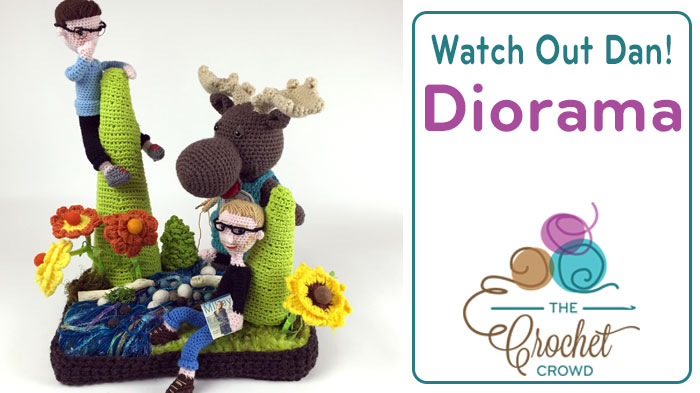 Moose on the Loose Yarn Artistry
Introducing "Watch out Diva Dan!!!" a crochet diorama based on the Moose on The Loose Crochet Cruise for Alaska 2016. It didn't start out as a diorama though, it was a morphing idea. We initially started with just having the Moose created for the Crochet Cruise. It was crocheted using Sharon Ojala's Free Moose Pattern. It has small editions to make it personal. It was crocheted by our friend Nikki Baker of Indiana. To unexpected surprise, she crocheted two miniature Mikey and Diva Dan Amigurumi Dolls for a thank you gift.
With our 7th Crochet Cruise coming next week. We wanted to create something fun for the reception table. We find many cruise passengers, not with our party, are curious about crochet.
Nikki had made the moose and originally our thought was to have it on the table. Today, while at Michaels, Daniel and I got to talking about making the Moose as part of an exhibit for the ship.  Here is the free pattern for the Moose. Muddy the Moose by Sharon Ojala.
We searched the wire wreath section but changed our minds. We were concerned about the wire ring being an issue at the airport with this in our luggage. So we left leaving it to further thought.
We just felt the Moose needed some additional theme.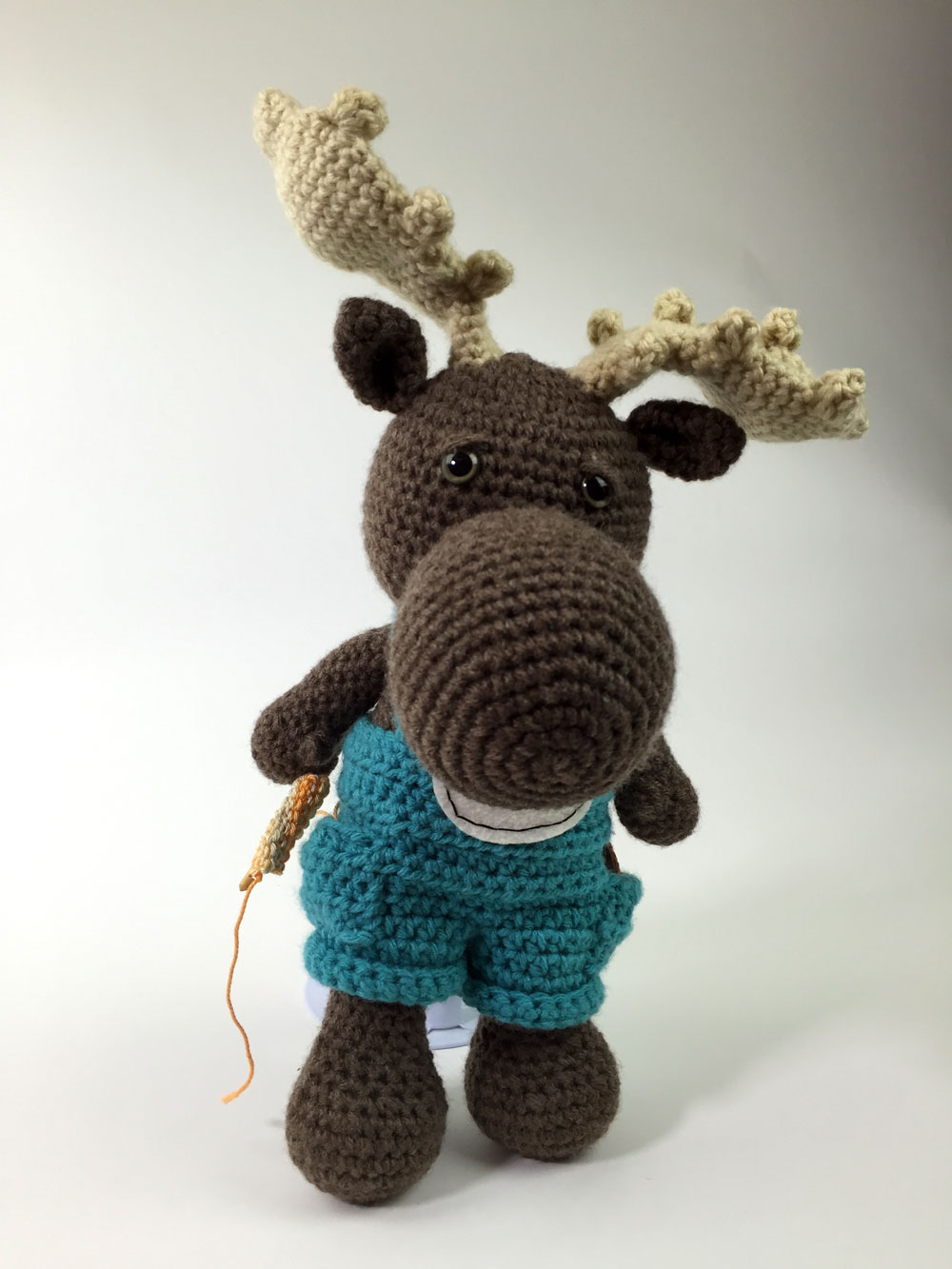 So we came back home and revisited the idea of doing a theme. Daniel thought about the Moose standing on Styrofoam and using two trees I made for a tutorial earlier this year. So we pulled out mixed crafting supplies and instantly discussed collaboration of mixing Nikki's projects with a theme. We have a wide assortment of crafting supplies at home.
I started to crochet a base of grass from the discount bin of Spinrite Yarns, home of Yarnspirations.
I pulled out my Christmas Trees I made for a tutorial earlier this year.
We pulled out the trimmings of yarn I did from my Knot Scarf I had made the day before.
We pulled out assorted felted balls, flowers we had made a few years ago.
We raided a table center piece for driftwood.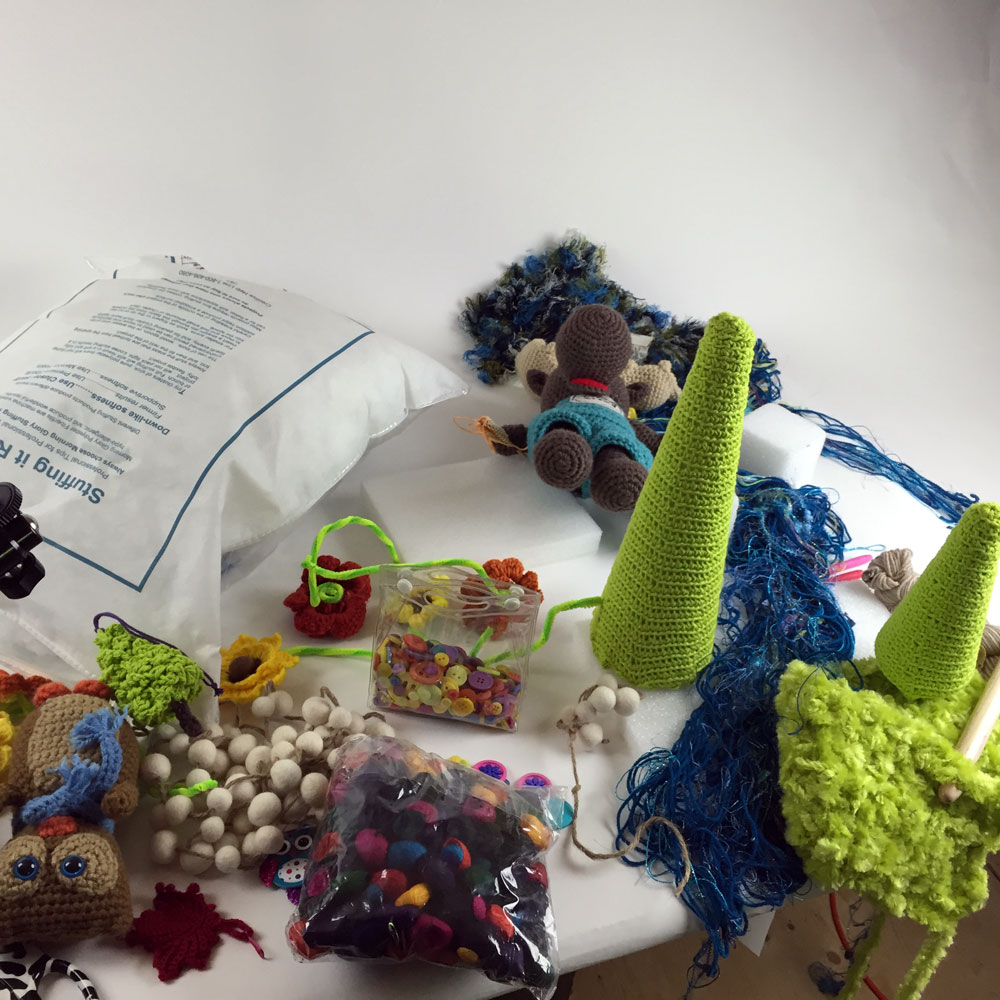 Christmas Trees were slide over Styrofoam Cones and sewn into position.
Base Grass was made and sewn directly to the Styrofoam platform.
Daniel laid the trimmings of blue mixed yarns to simulate a babbling brook.
Felted balls simulated large rocks and pebbles in the stream.
Items were staged and hot glued into position.
Of Diva Dan and I, he is the stage setter and more creative artistic one. It comes with being hours on Pinterest Daily and reading Home and Garden Magazines for years. He knows colours and what works together.
Daniel gives me instructions on where to put things and I glue and do as instructed. He comes back and fluffs it up with final touches and adds insightful critique throughout the project. Occasionally I get an idea along the process. My idea was for the stones and for his character to be holding a crochet magazine. Some ideas come out through talking where a simple idea leads to a theme. Neither of us can take credit so we share the glory.
We staged the characters to see what they would look like. We positioned them in a way of Mikey having climbed a tree and being scared of the Moose. Diva Dan not knowing the moose is there and Mikey is trying to call Diva Dan to get his attention. The moose is not to look threatening as the moose has a Tunisian Project in hand. He just wants to crochet with Mikey and Diva Dan.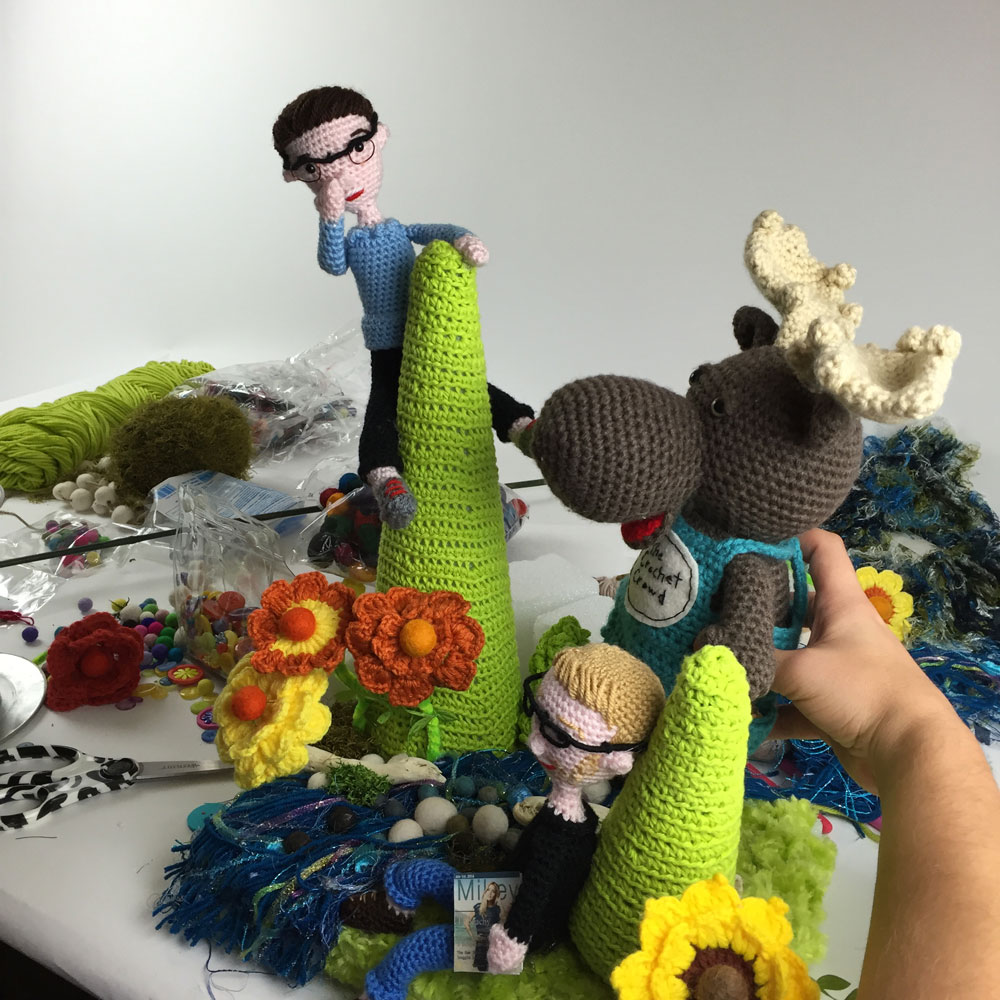 So everything had to be set, stitched and permanently positioned. I had then to create a trim for the base of the platform to hide the water and grass going over the edge.
On behalf of Nikki, Diva Dan and myself, we present to you our creation.
The Final Views
Story – Premise
Mikey and Diva Dan are enjoying an excursion on the Moose on the Loose Crochet Cruise. A quiet day by the babbling brook in Alaska. Suddenly, Mikey here's leaves and cracks of branches. He turns around and sees Muddy the Moose. He's approaching. In fear, Mikey climbs the tree lickity split. Diva Dan loves wildlife and is enjoying the brook too much. He's unaware that Muddy the Moose is behind him. Mikey is up in the tree trying to call for Diva Dan to get his attention.
In the end, neither realize Muddy has brought his Tunisian Hook to do a Stitch Social with Mikey and Diva Dan. Mikey climbs down and they sit and chat about Alaska for the remainder of the day.
Crochet Diorama – 12″ x 10″ x 18″ high