New Live Events Sponsorship with Jo-Ann Fabrics and Crafts
New Live Events Sponsorship with Jo-Ann
The Crochet Crowd has officially teamed up with Jo-Ann Fabrics and Crafts to help continue our live events that we host for 2017.
Our live events that we self-host are extremely important to us. It's an opportunity for us to come from just the world of Facebook and YouTube and to step out from behind the cameras.
Live any live event, they cost a lot of money to host. They are like hosting a wedding in many ways. However, our partnered sponsorships allow us to keep our events affordable. The sponsorships allow us to subsidize some of the costs to keep our activity fees lower. They also allow us to have each participant receive an arm full of yarn and goodies to take home with them.
So we thank Jo-Ann sincerely for their help in continuing to keep our events fun and fabulous. 
Non-Cruise with Crochet Event
In recognition for the amount of emails that came in last year for us to host a non-cruise event, we went ahead and booked space at Walt Disney World in Orlando Florida for Oct 18 – 20, 2017. A 3-day event prior to a Crochet Cruise to allow crocheters to assemble, connect and stitch out with us at Disney.
Part of our package is the exclusive VIP SALON at the Finding Nemo Pavilion where our workshop is behind the massive Aquarium. A full Disney Meal and more will be provided to each registered guest for the activities portion.
We selected Disney as we realize that people don't like to travel alone. They like to bring family and friends but what are the family and friends going to do while the crocheter is with us. With playing at Disney, the family and friends can enjoy the theme park and leave the crocheters with us for a few hours each day.
For those interested, you can download our Brochure to talk it over with your friends. We have limited space for only 140 Crocheters as the VIP SALON at Finding NEMO will only sit that many people for dinner.
Our Disney Activities Brochure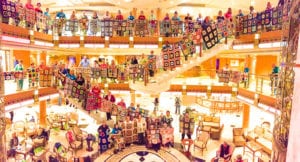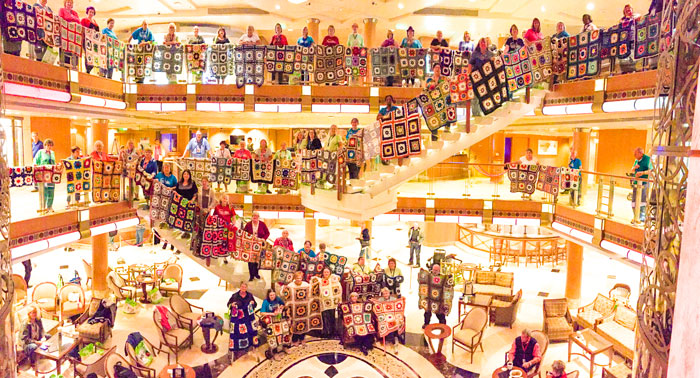 Crochet Cruises
Currently, we have 4 cruises in our future. We select from value branded cruise lines like Carnival to premium cruise lines like Celebrity. Each has their own advantages. To our company, Celebrity is the easiest to work with behind the scenes to accomplish our goals.
Our next two cruises are in October 2017. They are nearly full as our classroom allotted space is about 100 – 120 max. On board the gorgeous Carnival Magic Ship. A family friendly ship with those on a budget in mind. They know how to take care of the kids on board and have a party atmosphere for our younger crocheters who are wanting to dance the night away or participate in pool games and more.
We have our Southern Caribbean cruise in February 2018 on board Celebrity Reflection. A premium cruise line designed with space in mind. There's more square footed per passenger verses a value branded ship. More places to hang out, hook out and much more. With less people on board, it's easier to find a deck chair and relax. At times, you can feel like you are on the only person on board. It's relaxation it's best. The pricing is really reasonable for this 11 day crochet cruise that the entire ship is close to being sold out. Last check up they have only 150 cabins left on the ship. We have about 75 crocheters on board. Our limit is about 100. Once the cabins are completely sold out on the ship, we are unable to continue selling this as an option. 
Finally, we are returning to Alaska in June 2018. We are on board Celebrity Solstice. With our classroom on Deck 5 with 16 foot windows floor to ceiling to overlook the Pacific and Mountain Ranges. No better seat in the house. This cruise is selling fairly quickly for us. Alaska is a bucket list and our last Alaska had 105 Crocheters but our entire party was massive of 160. This included family and friends who travelled with our crocheters. It was magical and really connective. One of my favourite Crochet Cruises of all time.
If you are interested in crochet cruising with us. We have an update Newsletter with all of our events and further information.
Download the Entire Newsletter Here.