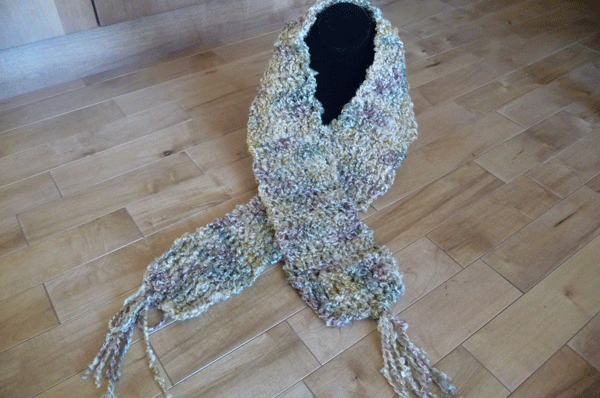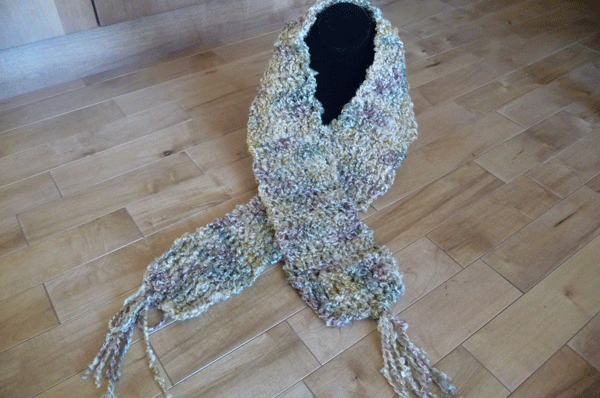 Pheasant Scarf
Crochet this Pheasant Scarf using Red Heart's Light and Lofty. You only need 1 ball of yarn to make this generous scarf. Create your own by following my directions.
Distribution of this pattern is appreciated but please copy and post the link. Do not duplicate or charge for the usage of this pattern. You may create your own scarves and sell what you make but this pattern is to remain free.  
Needed Materials
Size 10 mm or N Size Crochet Hook
1 Ball Only of Red Heart Light & Lofty – colour used was called Pheasant. The pheasant colouring looks so much nicer in person than it does in pictures. It's one of those you have to see. I can see doing an entire afghan with this. It would crochet up real quick too!
This project will measure 62″ without tassels. It seriously takes about 1 hour to make. For less than $6 you have a fabulous gift for a friend.
Definitions
BEG = Beginning, CH = Chain, HDC = Half Double Crochet, ST – Stitch, SL ST = Slip Stitch, SC = Single Crochet, DC = Double Crochet, TR = Triple Crochet, DC2TOG = Double Crochet 2 Together,
Instructions
Chain 14, DC all the way starting from the 4th from the hook. Total of 11 stitches across. Turn
CH 3 and DC all the way. Turn
Repeat Step 2 – 46 Times
CH 5 and Quadruple Crochet all the way.
CH 3 and DC2TOG, DC until the final 2 Stitches and DC 2 TOG.
Fasten off
Go to starting end and fasten on and repeat Step 4 – 6.
Create tassels and attach.
You should know that I was left with only 1 foot of yarn at the end of this project. Your tension may play a factor in the sizing of this project. To conserve some extra yarn, don't do all 46 rows. Stop earlier if in doubt.
by Michael Sellick, The Crochet Crowd
©2012
The Crochet Crowd