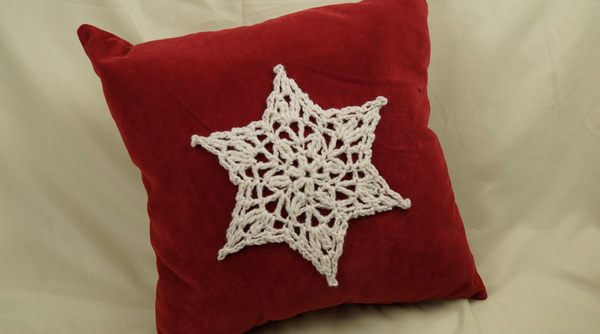 Pillow Talk with Mikey
I've just launched videos series in late November 2012. I was inspired by a visit to a medium – high priced home decorating store where they had pillows for $80 each. When looking at the pillows, other than the material, the higher inflated costs were associated to the the add ons. This included appliques. 
Off to Walmart I went to find basic pillows for $12.97. I came home and crocheted an applique within a 1/2 hour and then sewed it on.
I realized pretty quickly that I can save a ton of cash on high end home decor items such as this by buying a basic pillow and decorating it myself! In this new video series, I am going to be demonstrating different appliques to be applied to pillows. BUT WAIT… you don't have to use pillows, you can apply your applique to clothing, hats, Christmas stockings and so much more.
Pillow Talk Video Series – How To Crochet Pillows and Motifs
Click here for a list of Pillow Talk Videos that have been released. You can crochet pillows from scratch or create appliques to go over existing pillows. Pillows are a trend in crochet and with the right design and make for a beautiful home decor item.