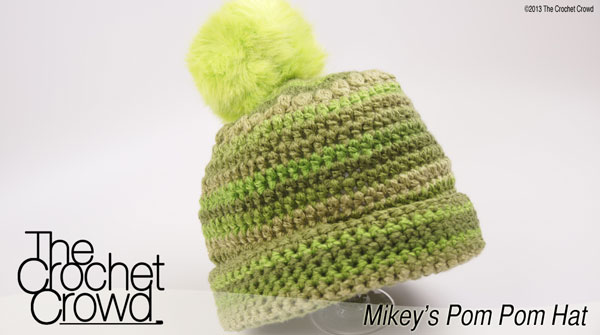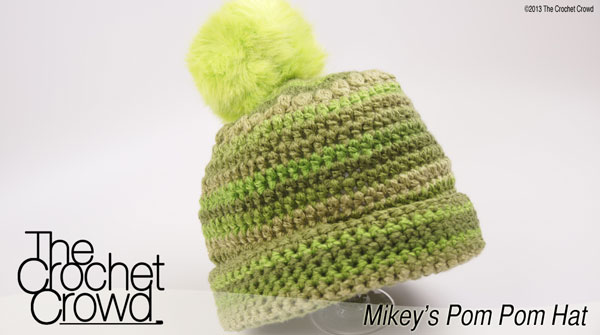 Pom Pom Bargello Hat
Finally… Pom poms are back in style and available in stores once again. You might be really gifted in making the most perfect pom poms ever; however, I'm not one of those gifted people. I love my pom poms to be fabulous and full. You can buy pre-made pom poms by Bernat and Lion Brand. You can visit my Amazon Store, Pom Pom Department to see more details about the pom poms.
In this pattern, I am using the new Bernat Bargello Yarn. It is unusual as it appears to be I-Cord yarn. It is thick and a 10 mm or size N Crochet Hook is recommended. Knowing the yarn hook required as so big, I reduced my hook size to make the stitches compact. This creates a warmer and well put together touque. There will not be a tutorial made for this hat. The hat is standard in design that are similar to other tutorials I have.

Materials Needed
Size 6.0 mm or J Crochet Hook
2 Skeins of Bernat Bargello Yarn, 100 g, 3.5 oz. Colour used is Olive
Darning Needle
Instructions
Round 1 – Create a magic circle. See tutorial below if you need help to understand a magic circle. Single Crochet (sc) 6 times around the ring. You will be working in a continuous circle, you will not be doing any slip stitching to prevent a noticeable seam line. Insert stitch marker in the final stitch so you can count your rounds.
Round 2 – 2 sc in each sc around. Move up stitch marker to the final stitch. Move the stitch marker in the final stitch of each round from here and throughout. 12 sc.
Round 3 – *sc in next sc, 2 sc in next sc; rep from * around, 18 sc.
Round 4 – *sc in each of next 2 sc, 2 sc in next sc; rep from * around, 24 sc.
Round 5 – *sc in each of next 3 sc, 2 sc in next sc; rep from * around, 30 sc.
Round 6 – *sc in each of next 4 sc, 2 sc in next sc; rep from * around, 36 sc.
Round 7 – *sc in each of next 5 sc, 2 sc in next sc; rep from * around, 42 sc.
Round 8 You will criss cross in this round. * Skip next stitch, double crochet (dc) into the next stitch, then dc into the skipped twice. Repeat * all the way around. See tutorial below on how to criss cross.
Rounds 9 – 17, HDC in each stitch around.
Round 18, HDC around. Review your circle as a clock. At the 3pm, 6pm, 9 pm and 12 pm, do a 2 TOG DEC Stitch to give the brim a tighter feel.
Round 19 – Round 25, SC in each stitch around. Fasten off and weave in ends.
Either Make a Pom Pom or Sew on A Pre-Made Pom Pom to add the final touches.
Tutorial Help
How To Create a Magic Circle
How to Criss Cross Stitch
How To Do 2 TOG Decrease
How To Fasten Off and Weave in Ends Properly
The tutorial will help you to understand the rounds.