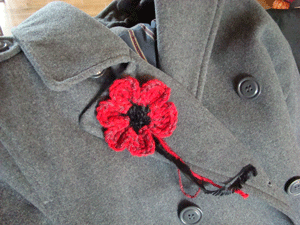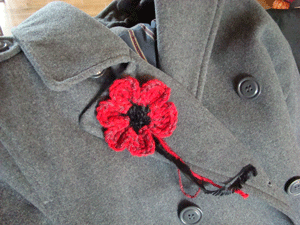 Remembrance Poppy
You can also use this Remembrance Poppy Flower pattern for other types of flowers. Simply changing the colour will provide an entirely different look.
Needed Materials
Size 5.0 mm  – 5.5 mm or J Size Hook
Bernat Super Value Yarn Red & Black, 4 Ply Worsted Yarn
Picture has two yarns mixed together in the red section. Bernat Super Value and no name Glitter yarn to add some sparkle. You don't need to mix two yarns together but I did this to give the flower an extra shimmering look. Changing yarn thickness and types of yarn will affect this pattern. Thicker yarns will make this flower super huge and thinner will make mini sizes of this flower. There is no wrong answer, decide what works for you.
In the picture, I used Bernat Boa Yarn to give the centre a real flower look. You will not be able to crochet visually if using boa. I strongly suggest if you are new to crochet or are unable to crochet feeling the stitches with your fingers that you should refrain from using this yarn and substitute it was the regular black yarn instead.
You can also change colour in each rotation but should note that the inside colours of the flower don't really get a lot of opportunity to be shown. The last two revolutions is what you will primarily see.
Definitions
CH = Chain, SL = Slip Stitch, SC = Single Crochet, TR = Triple Crochet,
Instructions
Using black, create slip knot and chain 2.
SC into the beginning stitch 12 times to form a circle. SL to the beginning SC of this rotation. Fasten black off.
Cast on red. *CH 4, TR 3 times into the base of the Chain 4, then CH 4 and SL to the next stitch on the circle. Repeat from * all the way around. You will have 6 petals.
Fasten off red and weave in ends.
With a safety pin, you can mount the poppy onto it and then fasten it to your clothing safely.
Picture shows with the ends dangling. That is an artist choice. You can either cut them off or leave them hanging.